How One Energy CEO Came Undone Twice in the Shale Boom
The first one out the door is sometimes first to fall off the cliff.
by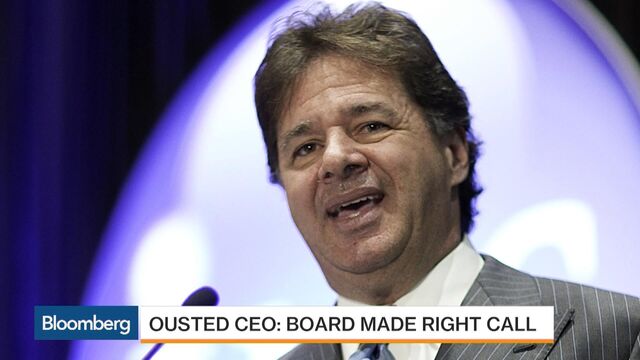 One of the energy industry's most interesting executives lost his job over the weekend. The board of Cheniere Energy voted to oust Charif Souki from his role as chairman and chief executive, just a few weeks before the company plans to export the first cargoes of liquified natural gas (LNG) ever to sail from the continental U.S. More important, though, the vote followed recent regulatory filings showing that activist investor Carl Icahn has upped his stake in Cheniere to more than 13 percent, from the 8 percent position he disclosed in August.
While he made happy pronouncements at the time, Souki's fate was probably sealed the moment Icahn got two seats on the board. Twenty years after founding Cheniere as an oil and gas company exploring the shallow waters of the Louisiana gulf coast for forgotten deposits, Souki has yet to turn a profit. Cheniere, under Souki's constant leadership from 1995 through the third quarter of 2015, has booked a combined operating loss of more than $3 billion. That hasn't stopped the CEO from making plenty of money for himself. He took home $142 million in total compensation in 2013, good enough to make him the highest-paid CEO of a U.S. public company that year. 
In the face of such persistent losses, the compensation struck many as absurd—including a number of shareholders. But to Souki, it was fair compensation for what even his harshest critics would concede was a miraculous turnaround. From 2008 to 2014, Souki took Cheniere from the brink of bankruptcy, with its shares trading below $2, to a company valued at nearly $20 billion, with shares trading close to $90. Along the way, Cheniere became the leader in the push to export abundant natural gas supplies from the U.S.
It has to be noted that Cheniere wouldn't have needed saving had Souki not run it into the ground in the first place, via one of the biggest wrong-way bets in history.
In the early 2000s, Souki decided to turn his fledgling exploration company into a player in the world of natural gas imports. Pretty much out of nowhere, Souki announced plans to build a handful of enormous LNG import terminals in the U.S. No one took him seriously at first, but by 2004, Souki was well on his way to controlling a big piece of what at the time appeared to be a growing market for LNG imports into the U.S.
Back then, natural gas was expensive and getting harder to find. On a remote stretch of swampland in the Louisiana bayou, Souki started building a multi-billion-dollar terminal that would be among the first to open its doors to imported gas. Wall Street loved Souki, and the value of Cheniere rocketed past $3 billion. Everything was going according to plan until the shale boom hit. Suddenly the U.S. went from being desperately short of natural gas to having more than it could use for 100 years. Souki's giant import terminal in the swamp became obsolete before it was even finished. In an interview I did with him for a feature story in Bloomberg Businessweek earlier this year, Souki put it best: "All of a sudden the genius became the idiot."

That should've been where the story of Charif Souki ended. But by sheer force of will, Souki clawed back to relevance by doing the only thing he could: turn his import terminal into an export one. He used the source of his undoing to write himself one more chapter. And for a time it worked brilliantly. Souki again raised billions from Wall Street, got government approval years before anyone else, and undertook a massive construction project in the swamp. In a way, Souki's recent demise is the second time the shale boom has ruined his plans. This time around the effect is a little more nuanced, but perhaps equally as damning.
The case behind Souki's bid to turn Cheniere into an LNG export powerhouse always rested on a simple calculation that he could undercut the price of LNG in Asia and Europe by sourcing the gas from the U.S. After the financial crisis, oil prices spiked back above $100. Since LNG prices are pegged to the price of oil, they shot up too. But natural gas remained super cheap in the U.S. Back in 2010, 1,000 cubic feet of natural gas cost less than $4 in the U.S. and more than $10 in parts of Asia, Europe, and South America. Even with all the transport costs associated with LNG, Souki figured he could export gas to Japan and Britain for less than what they were paying. 
As oil prices have crashed, that arbitrage vanished, along with billions in Cheniere's stock value. Since March, shares of Cheniere have lost half their value and now trade around $40. Saudi Arabia's decision to keep producing has more to do with the current price of oil, but American frackers forced the Saudis' hand last year by helping double U.S. oil production over the past several years. 
Reports indicate that the board split with Souki over his expansion plans. When I visited Cheniere's offices in Houston in April, the talk from Souki and among his top lieutenants was all about growth: Cheniere is constructing a second LNG export terminal in Texas before the first one is even finished. Souki has also signed a handful of deals to work with smaller companies looking to profit off LNG exports from the U.S. One executive told me that Cheniere was even hoping to get into the oil export game should the U.S. ever lift its crude oil export ban. The idea, the exec told me, was to be a one-stop shop for oil and gas exports out of the U.S. Gulf Coast. 
In an industry dominated by lifers and specialists, Charif Souki was always a fascinating anomaly. A Lebanese-born investment banker, a restauranteur and consummate deal-maker, Souki's talents are many. At the core of his success, though, has been the ability to walk into a room, sell people on a particular vision, and convince them to invest money. To his credit, Souki understood the importance of being the first mover in a burgeoning market. He certainly achieved that status in his two most recent endeavors. The problem with being the first one out the door is that sometimes, you're first to fall off the cliff, too. 
Before it's here, it's on the Bloomberg Terminal.
LEARN MORE