business
Guindos Sees Stable PP Government as Polls Show Spain Needs Pact
Maria Tadeo and Tom Mackenzie
Rajoy leads in final polls with 28%, Socialists second on 21%

Spain to meet budget targets, Guindos says, despite EU concern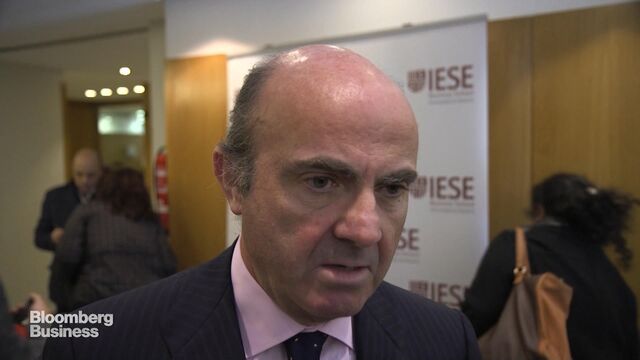 Spain's prime minister, Mariano Rajoy, will win enough support in Sunday's election to form a stable government, Economy Minister Luis de Guindos said, as the final polls of the campaign gave the governing People's Party a lead of about seven percentage points.
Voters will recognize the economic turnaround achieved on Rajoy's watch, de Guindos said in an interview in Madrid. While surveys shows the PP is set to gain the most seats, it is likely to lose its outright majority and about a third of the votes it won in 2011, leaving Rajoy dependent on the support of rivals if he is to secure a second term.
"I'm totally sure that the outcome of the election will be a positive one, the Spanish society will take into account the situation that we were in four years ago, and where we are now," de Guindos said. "We'll have a stable government that will continue with the policies that we have implemented."
The average of seven polls published Dec. 14 -- the last day Spanish newspapers are allowed to publish polls under Spain's electoral law -- showed the PP leading with 27.6 percent of the vote, followed by the Socialists with 20.7 percent. Pro-market Ciudadanos had 19.1 percent and anti-austerity Podemos was in fourth place with 17.3 percent.
Budget Dispute
With Spain facing a watershed election set to produce the most fragmented parliament since the country returned to democracy in 1978, Rajoy has argued the "most democratic" option is for the party with the most votes to form a government, even without a majority. After a group including Socialists, Communists and the Left Bloc joined forces to oust the Portuguese government, the prime minister has warned against a "coalition of losers" taking office.
Should de Guindos's forecast prove too optimistic, Spain may struggle to pass major pieces of legislation, starting with next year's budget. Though Rajoy pushed through the 2015 spending program last month, the European Commission says the budget will need to be re-drafted after the election because Rajoy's plans will see Spain breach its budget commitment this year and next.
De Guindos disputed the commission's analysis and insisted that Spain will meet its targets of 4.2 percent this year and 2.8 percent in 2016. Officials in Brussels project 4.7 percent and 3.6 percent respectively.
"The budget that has been approved will meet the target for next year," de Guindos said. "We won't need any additional measures."
— With assistance by Ainhoa Goyeneche
Before it's here, it's on the Bloomberg Terminal.
LEARN MORE