business
Gold to Breach $1,000 as Fed Lifts Rates in '16, SocGen Says
By
Prices to decline to $955 an ounce next year, Bokobza says

Three further hikes in U.S. interest rates seen in 2016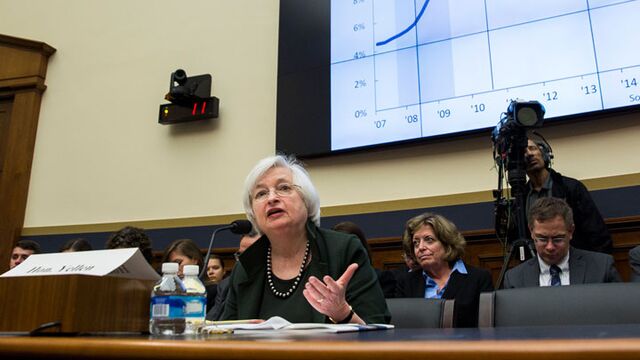 Gold is going to be a casualty of the Federal Reserve, according to Societe Generale SA.
QuickTake The Rise and Fall of Gold
Bullion will probably drop to $955 an ounce by the end of 2016 as the U.S. central bank raises borrowing costs this week and follows that with three further hikes next year, Head of Global Asset Allocation Alain Bokobza said in an interview. The target suggests prices may sink about 10 percent to the lowest since September 2009.
Gold is heading for a third annual loss as U.S. policy makers prepare to raise rates for the first time in almost a decade, boosting the dollar and cutting the appeal of bullion. Traders are pricing in a 78 percent chance the Federal Open Market Committee will raise borrowing costs. Bokobza said that, while liftoff on Dec. 16 is widely priced in, gold will still retreat over the coming year as rates continue to rise.
"We are looking more at the 2016 panorama, in which the Fed continues to tighten and the U.S. economy delivers reasonably well," Bokobza said on Monday. "That does not argue for a higher gold price. Gold will be a casualty."

Bloomberg Survey
Bullion for immediate delivery traded at $1,062.55 an ounce at 9:57 a.m. in Paris, 10 percent lower in 2015. The price dropped to $1,046.44 on Dec. 3, the lowest since February 2010. The metal will probably climb in 2016 along with wheat and natural gas, according to a Bloomberg survey of market participants.
Bokobza's outlook echoes that of Barnabas Gan, an economist at Oversea-Chinese Banking Corp., who last week reiterated his view that gold will fall to $950 by the end of next year. OCBC was the top precious metals forecaster in the third quarter, according to rankings compiled by Bloomberg. Gan has said he expects that after an initial 25 basis-point increase at this week's meeting, the Fed will continue to raise rates to 1.5 percent by the end of 2016.
Investors are dumping holdings of exchange-traded products backed by the metal. Assets in gold-backed ETFs fell to 1,464.24 tons on Monday, the lowest since February 2009, data compiled by Bloomberg show.
"We would recommend to be careful about holding too much ETFs in gold ahead of the scenario we foresee," Bokobza said. "ETFs replicate the gold price, so there is no way you can make money on the gold ETF if the gold price is going down. Gold is quite expensive, so there are better ways to protect a multi-asset fund for individuals, there are better ways to hedge a portfolio."
U.S. Treasuries or the Japanese yen can provide good protection to portfolios in troubled times, in addition to some gold holdings, said Bokobza, who doesn't have a permanent weighting for bullion. The current commodity weighting is 8 percent, within which SocGen recommends being overweight on oil and underweight on precious metals, he said.
(
Updates price in fifth paragraph.
)
Before it's here, it's on the Bloomberg Terminal.
LEARN MORE