Ghosn Succession Clouds Renault-Nissan Alliance Future
by
CEO says he won't recommend one CEO to run carmakers after him

French state seen blocking more closely-structured alliance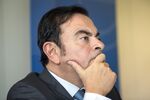 Carlos Ghosn said Nissan Motor Co. and Renault SA are unlikely to stick with one chief executive officer after him, complicating the future of the carmakers' alliance structure.
Ghosn, 61, will continue running Renault and Nissan as long as he has the trust of shareholders, he told reporters in Yokohama, Japan on Tuesday. The 16-year alliance is being tested as the French government is set to double its voting power at Renault and has said it opposes a full merger between the two companies.
"It's very likely that in the future, this present system of one CEO for two companies will not continue," Ghosn said during a briefing at Nissan's headquarters. "Finding another person who's going to have legitimacy" with both companies will be "very difficult. That's why I'm not recommending it."
The comments illustrate the challenge the two companies may have in maintaining a partnership secured in part by the dual role played by Ghosn, who promoted the merits of an agreement Nissan and Renault reached on Friday. The carmakers' eight-month dispute with the French government "is behind us," he said, with the French state pledging to respect Nissan's autonomy and agreeing to cap voting rights in some circumstances.
Still, the deal fell short of resolving imbalances in the partnership. France remains positioned to become a more powerful shareholder with a dominant say in the alliance's affairs, and Nissan continues to be under-represented, lacking any Renault voting rights.
France "cemented its position in Renault without making a material sacrifice to Nissan shareholders," Evercore ISI analysts led by Arndt Ellinghorst wrote in a report Monday. "Unfortunately, this year's power battle revealed that the French government will block any closer, more balanced and shareholder-friendly structure between Renault and Nissan."
Shares of Nissan declined as much as 3.9 percent, the most intraday since Nov. 2, in Tokyo as of 2:08 p.m. The Topix Index fell 1.4 percent.
Renault's board, which includes two French government representatives, agreed unanimously on Friday that the state would maintain a right to double the voting power for its stake as of April 2016. Limits on its voting rights won't apply to matters including changing Renault's dividend or board appointments and dismissals involving state representatives, the company said.
Nissan failed to activate voting rights for its 15 percent holding in Renault. The two manufacturers are drawing up a contract enforcing non-interference in the Japanese company's decisions.
Ghosn said while investors want a full merger between the two companies, Renault and Nissan aren't ready to execute such a deal.
"We need to do much more convergence between the two companies before one day eventually imagining something like a merger," he said. "We are not absolutely discarding that one day, that would make a lot of sense, but certainly not today. We have much more things to do."
Before it's here, it's on the Bloomberg Terminal.
LEARN MORE