For Swiss PhD Triathlete Bank CEO Three Languages Aren't Enough
By
Raiffeisen chief embraces intensive Italian language course

Four national tongues pose special challenges for central bank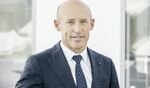 When Patrik Gisel prepared to take charge of Switzerland's largest consumer bank network, the triathlete with a PhD in economics was proficient in three languages: English, German and French.
That wasn't good enough.
The 53-year-old wanted to improve his Italian, the main language of about 8 percent of the Alpine nation's people, before he took over as chief executive officer of Raiffeisen Schweiz in October. He enrolled with Boa Lingua, a language agency that sent Gisel to a former Roman spa 80 kilometers (50 miles) east of Florence. For three weeks, he studied Italian in the morning and sharpened his triathlon skills in the afternoon, before practicing conversation in Bagno di Romagna's wine bars and restaurants.
"It is an absolute advantage if you talk the local language," Gisel said in an English-language interview in Swiss German-speaking Zurich, two months before becoming CEO. "We are a group of local banks so you should behave like you are local."
Italian is spoken mainly in the Swiss canton of Ticino where the St. Gallen-based bank has almost a quarter of the mortgage market.

With four national languages, including Romansh, a language spoken by about 35,000 people in the mountainous east, Swiss business leaders, government and financial institutions face a unique challenge among major industrialized countries. German is spoken by almost 64 percent of Switzerland's 8.2 million people and French by about 23 percent, federal statistics show.
Other Languages
That picture is getting more complicated with the growth of other languages, spoken by almost 1.8 million of Swiss residents in 2013. Some people specify more than one main language, which for some means English, Portuguese or Albanian -- spoken by 4.4 percent, 3.4 percent and 3.1 percent of the population respectively.
"In Switzerland, it is probably necessary that you at least speak German, English and French," said Gisel, who earned his doctorate from St. Gallen University, one of Switzerland's top business schools. "For a Swiss top executive that is a necessity."
That reality creates a minefield for the small army of interpreters employed by Switzerland's central bank. Each word of Swiss National Bank statements will be meticulously parsed by traders, bankers and executives seeking to divine the direction of interest rates and monetary policy. The communiques must be released simultaneously in German, French and English with translations provided by the SNB's 15-member interpreting staff. Select publications also appear in Italian.
Multilingual Tradition
"Markets are important recipients of SNB communiques, so every word must be exactly right, even in a translated text," spokeswoman Silvia Oppliger said in an e-mailed response to questions. "We honor our multilingual tradition."
When Guy Parmelin, a 56-year-old lawmaker of the anti-immigrant Swiss People's Party, was elected to sit as a minister in Bern this month, the winemaker from the French-speaking canton of Vaud gave an acceptance speech using each of the four national languages, including Romansh. That came after he had fought off two party rivals for the post: Thomas Aeschi from the German-speaking canton of Zug, Norman Gobbi from Ticino.
From Jan. 1, the seven-member Swiss government will consist of three members from French-speaking cantons and four from German.
Swiss Feeling
Even foreign-born executives of Swiss-based multinationals feel pressure to heed the unique language demands of Switzerland. When Joe Jimenez, CEO of Basel-based Novartis AG, started his speech at the company's annual general meeting this year in German, an audible gasp went up from the audience of shareholders. After the California native finished the first part of the address and switched to English, enthusiastic applause rang out around Basel's St Jakobshalle arena.
"This is a Swiss company and I wanted to reach out to our Swiss shareholder base and show them that even though I'm an American, I feel like I'm Swiss," Jimenez said in an interview. "I just wanted to communicate that."
Several months after his intensive program, Gisel says his Italian could be better, lamenting he doesn't get to practice it often enough. Still, he plans to hone his skills during stays at a recently acquired apartment in Ticino, acknowledging Switzerland's linguistic heritage is an essential component of executive success.
Gisel has been impressed by Ivory Coast-born Tidjane Thiam, who converses in German as well as French and English since taking over as CEO of Credit Suisse Group AG in July. Thiam replaced American Brady Dougan, who spoke some French and Japanese, but expressed his regret for not learning more German.
Thiam's "German is really good," said Gisel. "That's going to be a real advantage for him."