Fed Dread Turns Mexico Into 'Whipping Boy' as ETF Outflows Surge
by
ETF shows biggest withdrawals among emerging markets in 2015

The fund has posted $840 million in outflows this year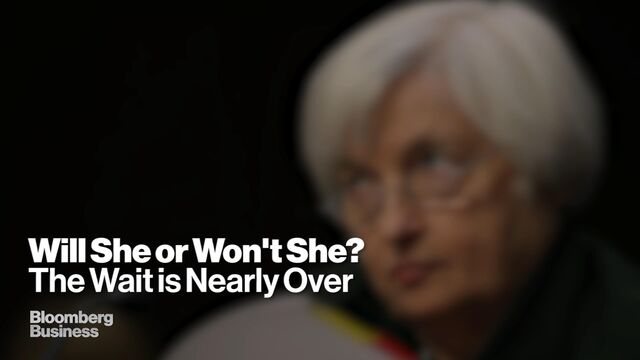 Wagers that the Federal Reserve will raise interest rates for the first time in almost a decade are souring sentiment toward Mexican stocks.

Traders have pulled $840 million from the nation's largest exchange-traded equities fund this year, the biggest outflow among developing nations, according to data compiled by Bloomberg. With one of the world's most-traded currencies, deep corporate ties to the U.S. and policy makers who have pegged the timing of their rate decisions to the Fed's calendar, Mexico is a popular way for foreign investors to bet on all things emerging markets, said Paul Christopher, the St. Louis-based head global market strategist for Wells Fargo Investment Institute.
"There are a lot of institutional investors who hold Mexico as a proxy," Christopher, whose firm oversees $1.7 trillion, said in an e-mail. This has led "to Mexico being the whipping boy."
Stocks and currencies of developing nations have slumped this year on speculation that an increase in U.S. borrowing costs would reduce the appeal of riskier assets. Traders now see a 78 percent probability the Fed will boost its benchmark from near zero at its meeting on Dec. 15-16. Economists surveyed by Bloomberg forecast Mexico will probably follow suit, raising rates for the first time since 2008, to keep foreigners from withdrawing capital after the peso tumbled to a record low in September.
Mexico's economy and the financial system have sufficient stability to cushion them from adjustments in global markets once the Fed raises rates, a panel including Finance Minister Luis Videgaray and central-bank Governor Agustin Carstens said in a statement Dec. 11. Still, such a decision from U.S. policy makers could have consequences for the Latin American country's external accounts and public finances, the group said.
The BlackRock Inc. iShares MSCI Mexico Capped ETF has lost 49 percent of its total assets this year, compared with a 35 percent decline for the firm's developing-nation fund. Foreign investors in the Mexican stock market are feeling the pinch as the peso's 15 percent drop deepens losses in dollar terms. While the IPC equity benchmark has dropped less than 3 percent in 2015, when measured in the U.S. currency it's down 17 percent.
"The devaluation of its currency has been one of the reasons for why we've seen such a big move" out of the Mexican ETF, said Mohit Bajaj, the New York-based director of ETF trading solutions at WallachBeth Capital.
The peso rose 1 percent to 17.1361 per dollar at 2:58 p.m. in New York.
Investors consider Mexico "one of the more liquid and freely-tradeable cohorts within the emerging-market basket for currencies, rates and equities -- therefore its performance and flows, especially in the equity space is often a function of a beta to the broader emerging market complex," Heidi Richardson, global investment strategist at BlackRock, said in an e-mailed response to a question about the ETF outflows. The firm's macro view on Mexico "is positive, especially in comparison to other emerging-market stories."
While Mexico's Bolsa has been among the most successful emerging-market exchanges in attracting new issuers this year, the macroeconomic factors are taking precedence and overshadowing any short-term good news, according to Bajaj.
That has "a heavier weight on the market than the few companies issuing," he said.
Before it's here, it's on the Bloomberg Terminal.
LEARN MORE