Even Celebrities Geek Out at Disney `Force Awakens' Premiere
by and
Sponsors Lego, Dodge and All Nippon Airways share spotlight

Disney takes over Oscars theater for star-studded film debut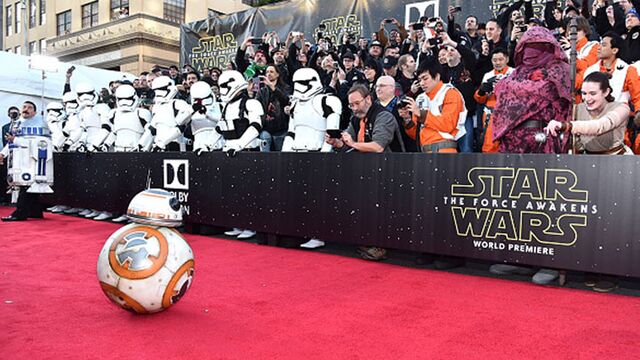 "Star Wars" cast members old and new gathered in Hollywood Monday night for Walt Disney Co.'s premiere of "The Force Awakens," an event that turned celebrities, directors and even seasoned studio executives into fans for the evening.
The event, at the Dolby Theatre where the Oscars are held, closed Hollywood Boulevard for three blocks. The guest list included Facebook Inc. executive and Disney board member Sheryl Sandberg, director Steven Spielberg, producer Brian Grazer and DreamWorks Animation SKG's Jeffrey Katzenberg, a former Disney studio chief. Comic actor Rainn Wilson and his son Walter dressed as characters from the series. Actress Geena Davis carried a purse modeled after Captain Phasma, the first female villain in a "Star Wars" picture.

The invitation-only premiere of "Star Wars: The Force Awakens" also gave Disney a chance to showcase all it's doing to promote the film, which debuts on Thursday. The Star Wars Battlefront video game was being demo'd in a tent, and there were photo ops with Stormtroopers. Marketing partners represented there included Lego, Dodge and All Nippon Airways, which painted one of its planes to look like a droid from the film.
Disney has a lot riding on the picture, the first since the Burbank, California-based entertainment company acquired the franchise from creator George Lucas for $4 billion in 2012. The film opens in theaters on Thursday evening. It will appear in more than 4,100 cinemas domestically, Disney said, a record for a December release.
Director J.J. Abrams introduced returning cast members including Harrison Ford, Carrie Fisher and Mark Hamill, as well as newcomers Daisy Ridley, John Boyega and Oscar Isaac. In an interview after the screening, Abrams expressed relief that the movie was well-received.

Big Laughs
"I'm thrilled," Abrams said. "I was happy the laughs were as big as they were."
In an unusual step that underscored the high stakes for Disney, Chairman and Chief Executive Officer Bob Iger greeted attendees at the start, introducing guests including Lucas and recalling the night he saw the original 1977 film.
"Never in my right mind did I believe I'd ever be invited to a 'Star Wars' premiere let alone be involved with 'Star Wars,"' Iger said from the stage.
The main event was held at the 3,400-seat Dolby, rather than Disney's usual venue, the El Capitan Theatre across the street, which can only accommodate 1,100 people. Other nearby theaters also had screenings.

Security was tight. Guests had to pass through multiple metal detectors. Even stars, such as "Modern Family" actress Sofia Vergara, who wore her hair in Princess Leia-like buns, had to wait in line for her cell phone after the screening.
Disney has kept a tight lid on plot points from the film. Reporters and critics were asked to hold reviews until Wednesday.
Strong Females
Davis, the founder of an institute that seeks more roles for women in film, said she was "thrilled" the picture featured strong females. Other celebrities said they were just happy to watch the first new "Star Wars" film in 10 years.

Josh Gad, the voice of Olaf the snowman in Disney's animated hit "Frozen," said he was "geeking out" at the chance to see all the original cast members. He brought along his brother, who introduced him to the franchise when he was four, with a screening at home on VHS tape.
Drew Borst, an analyst at Goldman Sachs Group Inc., increased his estimates for worldwide ticket sales of the film by almost half a billion dollars to $1.95 billion in a note on Tuesday.
Disney rose 2.6 percent to $112.16 at the close in New York. The shares are up 19 percent this year.
Before it's here, it's on the Bloomberg Terminal.
LEARN MORE