Europe Car Recovery to Slow After Fastest Growth in a Decade
by
Market to exceed 14 million cars for the first time since 2009

Demand unlikely to match 16 million peak before end of decade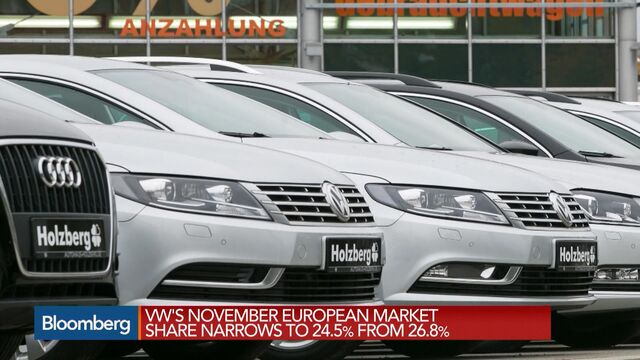 The European car market's growth is set to slow from its fastest pace in at least 10 years as consumers increasingly choose alternatives to owning a vehicle, sapping a recovery from a two-decade low.
New-car registrations in Europe are set to rise 8 percent this year to more than 14 million vehicles for the first time since 2009. That growth rate will slow to about 2 percent next year, and the market isn't likely to reach the 2007 peak of 16 million vehicles before the end of the decade, according to market researcher IHS Automotive.
"Structurally, things have changed," said Carlos Da Silva, manager for European vehicle sales forecasts at IHS. "People that should have been among the pool of buyers will never come to it," including retirees facing lower pensions amid government budget cuts as well as a growing number of people who live in cities with good transport networks and who decide they don't need a car.
Europe's limited prospects show the strains facing automakers as they seek to offset a slowdown in China as well as slumps in Russia and Brazil. Volkswagen AG is particularly exposed. Europe's biggest automaker has been losing market share in its home region after a scandal over cheating on emissions tests battered its image.
Buoyed by rising business and consumer confidence, 11-month new-car registrations in the region increased 8.6 percent to 13 million vehicles. That included a 14 percent surge to 1.12 million cars in November, according to figures released Tuesday by the trade group ACEA. Volkswagen's market-share losses accelerated in November, with the carmaker suffering its biggest drop since the test manipulation became public in September.
Ford Motor Co., Daimler AG and Fiat Chrysler Automobiles NV have been winning customers from Volkswagen with the help of new sport utility vehicles. Growing by rolling out another model in the segment may become more difficult as "we're expecting that segment to get pretty crowded," said Anil Valsan, a London-based automotive analyst at consulting company EY.
Adding to the choices facing consumers is the advent of alternative transport services, including ride- or car-sharing options such as Uber Technologies Inc., Daimler's Car2Go or BMW AG's DriveNow. That indicates slower gains in auto sales after this year's surge.
In 2016, "the growth will be much slower due to mechanical reasons," said Da Silva. "The jump we saw this year, but also the economic recovery is set to remain slow."
Before it's here, it's on the Bloomberg Terminal.
LEARN MORE