Delhi Leader Calls India's Modi `Psychopath' After Office Raided
by
Federal raid could galvanize Modi's opponents in parliament

Economic reforms such as goods-and-services tax remain stalled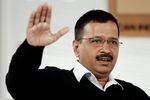 Delhi Chief Minister Arvind Kejriwal denounced Prime Minister Narendra Modi after federal investigators raided the office of his principal secretary on Tuesday morning in a corruption probe, a development that risks further galvanizing government opponents who have blocked economic reforms in parliament.
"Modi is a coward and a psychopath," Kejriwal said in a post on his Twitter feed. "When Modi cudn't handle me politically, he resorts to this cowardice," he wrote on the social media site.
The Central Bureau of Investigation said the raid is not against the Delhi chief minister and limited to Kejriwal's Principal Secretary Rajendra Kumar. "It's against a specific official," said Devpreet Singh, a spokeswoman of the CBI. "It's for a corruption allegation against him for favoring a particular company," she said, without giving more details.
Modi's opponents have blocked key bills such as a goods-and-services tax in parliament, accusing him of unfairly using federal government agencies to investigate graft allegations against political foes. While Kejriwal's Aam Aadmi party controls only four lawmakers in the 545-member lower house of the federal parliament, his position as head of Delhi gives him a more prominent voice in national affairs.
The search against the officer "is in relation to a case for an alleged offense committed in his capacity before he joined the office of Mr. Kejriwal," Finance Minister Arun Jaitley said in Parliament on Tuesday. Calls to Jagdish Thakkar, a spokesman at the prime minister's office, weren't answered. Phone calls to Kumar's office and residence also weren't answered.
The language used by Kejriwal "is highly abominable," Vijender Gupta, a BJP lawmaker from Delhi said in a Twitter post.
Aam Aadmi, a three-year-old organization, trounced Modi's Bharatiya Janata Party in Delhi elections earlier this year to halt his momentum following the national vote in 2014. It won 67 seats in the 70-member Delhi assembly, with BJP managing the remaining three seats.
Before it's here, it's on the Bloomberg Terminal.
LEARN MORE