Creditors Bawl: How Investors Ignored Risk of Junk-Bond Rout
by and
Debt, payable in more debt, to fund dividends was a warning

Rush to get money out of high-yield funds taxes liquidity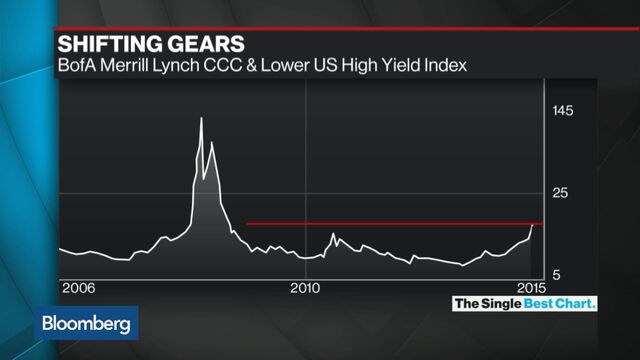 You had to see this one coming.
Warnings of a high-yield bust were plentiful: The shale driller that missed its first payment. The clothing manufacturer and the software maker among the many companies that issued debt, payable in more debt, earmarked to reward managers who'd already loaded them up with debt.
They had willing buyers, all of them. Investors have poured $240 billion into junk-bond funds since 2008, tripling the total commitment, in a desperate hunt for decent returns while the Federal Reserve pumped $3.5 trillion into the financial system and kept interest rates near zero for seven years. Junk-bond traders helped fund America's shale boom and gave the cheapest money ever, even to companies deemed by Moody's Investors Service to be "very high credit risk, poor standing." Now they're finding out what happens when the fling is over and everyone wants their money back at once.

"There's no one deal that sticks out because everything was crazy," said Bonnie Baha, who helps oversee $80 billion at DoubleLine Capital, which doesn't have a dedicated high-yield corporate bond fund and since May has slashed its holdings of the debt by two-thirds in its core fund. "You had so much money coming into the market and if you have a high-yield corporate bond fund, your investors don't pay you to sit in cash."
Barring a big rally in the next three weeks, the junk-bond market will post its first annual loss since 2008. That has triggered a wave of redemption requests from fund investors. Lucidus Capital Partners said Monday it liquidated its entire portfolio and plans to return $900 million to clients next month. Funds run by Third Avenue Management and Stone Lion Capital Partners have halted cash redemptions as investor demand drained their liquid assets.

The problem is that, as easy as it was for companies to sell $2.2 trillion of junk bonds the past seven years, investors are finding that getting their money out won't be as simple.
Unlike stocks, high-yield bonds can trade infrequently, particularly the riskiest debt. That's a nasty mix for funds that promise investors daily liquidity. It's what Federal Reserve Governor Jerome Powell warned in February was a "liquidity illusion" that can quickly evaporate amid market shocks.
"The question is whether funds like this are as liquid as investors had thought," said Erik Gordon, a University of Michigan law professor. "The reality is even big, sophisticated investors underestimate the risk of uncommon events, even though liquidity has been a problem in front of their eyes all along."

All it takes is one "idiosyncratic" surprise to "re-price entire credits and sectors," Morgan Stanley analysts led by Adam Richmond wrote in a Dec. 14 research note.
A sampling of deals over the last couple of years shows that yield-starved creditors were willing to overlook, forgive or ignore the warts as the riskiest corporate borrowers were increasingly able to dictate terms, according to Moody's.
American Eagle Energy Corp., a Littleton, Colorado, oil producer, defaulted on its debt in March, less than seven months after issuing $175 million in junk bonds. American Eagle Energy is in Chapter 11 bankruptcy and its debt was trading for less than 5 cents on the dollar Monday. The company's investor relations representatives didn't respond to e-mail and phone messages seeking comment.
J. Crew Group Inc. funded a special dividend to its private-equity owners in 2013 by issuing $500 million of so-called payment-in-kind toggle notes, which can be paid with debt instead of cash. The bond is now trading at 27 cents on the dollar. Margot Fooshee, a J. Crew spokeswoman, didn't respond to phone or e-mail requests for comment.
Average Yield
A Bain Capital-led group that bought BMC Software Inc. in a $6.7 billion September 2013 leveraged buyout issued $750 million junk bonds seven months later to pay themselves a dividend. The debt is trading at less than 66 cents on the dollar. Tami Casey, a spokeswoman for BMC, didn't respond to requests for comment.
The $3.6 billion of debt maturing in 2025 issued by Frontier Communications Corp. has lost 6.7 percent since being sold in September even after offering a coupon of 11 percent. The average yield on high-grade corporate debt at the time was about 2.6 percent. Brigid Smith, a company spokeswoman, declined to comment.

Credit quality in speculative-grade debt has deteriorated since the beginning of the year. For every junk-bond issuer that had its rating boosted in 2015, two have been downgraded, a ratio not seen since 2009, according to data compiled by Bloomberg. Yields on the riskiest securities -- those rated CCC+ or lower -- have surged to more than 18 percent, from a record-low 8.7 percent in June 2014.
"Too many bad companies have gotten financing that shouldn't have," said Steve Blumenthal, chief executive officer of CMG Capital Management Group in King of Prussia, Pennsylvania. "All these people got easy money. A lot of them won't survive."
Before it's here, it's on the Bloomberg Terminal.
LEARN MORE