Burned by Icahn, Cheniere's Ex-CEO Contemplates Life as Ski Bum
by , , and
Charif Souki wanted to keep growing Cheniere's export capacity

Legacy of thinking ahead of Exxon, Chevron, Shell: Alembic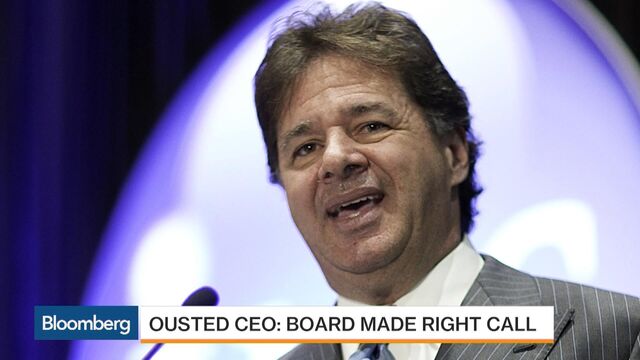 Charif Souki said he knew something was wrong on Dec. 8 when Cheniere Energy Inc.'s board of directors asked him to leave the room -- and then spent 10 hours talking without him.
Three days after that meeting, the company co-founder flew to his home in Aspen and waited for a decision on his fate. After spending two decades building up Cheniere, Souki had become embroiled in a fight with billionaire activist investor Carl Icahn over the company's future. He was only a month away from watching the first export of U.S. liquefied natural gas leave its Sabine Pass terminal in Louisiana.
Souki received word from the company lawyers on Saturday. "They explained to me I was terminated," he said.
Souki, 62, bears no ill feelings over the dismissal, he said in a phone interview from Aspen on Monday. He said he simply had more ambitious plans for Cheniere than the board. He wanted to double Sabine Pass's export capacity over the next eight years, shrugging off weak oil markets and the belief among many analysts that the global LNG market is headed for oversupply.
"The board of the company has decided to run it as a quasi-utility until they see how the financial markets are going," Souki said in the phone interview. "They decided an entrepreneur was not the best person to run the company."
Trendy Restaurants
As a Beirut-raised investment banker in his early adulthood, Souki got his start in building companies in the 1980s with a series of trendy restaurants in Aspen and Los Angeles. It was at one of these joints, Mezzaluna in Los Angeles, that Nicole Brown Simpson dined on the last night of her life. Her mother left her glasses behind, and a waiter, Ron Goldman, stopped at Simpson's condo to return them. Both he and Simpson were murdered, leading to the O.J. Simpson trial.
In the mid-'90s he waded into the oil and gas space -- taking control of a former restaurant chain called All American Burger, Inc. that had morphed into a Hollywood film-colorization company. The company was now primed to trace the arc of the U.S. natural gas industry.
Rechristened "Cheniere" -- a Cajun word for high land around a swamp -- the company was busy early last decade building LNG import terminals when the prevailing logic was that the U.S. lacked adequate reserves of the power-plant and heating fuel. Then came the shale revolution, unlocking vast stores of U.S. gas and ruining Cheniere's plans. Souki succeeded in raising the cash needed to retrofit Sabine Pass -- which may reach at least $15 billion -- for exports.
"This is an individual that was thinking ahead of Chevron, Exxon, Shell -- guys who've been in these markets for years and years," said Robert Norfleet, an analyst at Alembic Global Advisors. "He's even before them in kind of assessing this great market potential."
Today, though, there are new challenges. The gas and oil industries are under siege from low prices. While Cheniere has managed to ink long-term, take-or-pay agreements with clients that boast investment grades, Souki never answered a different concern of many investors -– what he intended to do with the billions of dollars in revenue once the cargoes started moving.

"People have just started to question: 'What are you going to do? Are you going to pay this back in the form of a dividend? Are you going to reduce debt?'" Norfleet said. "Instead, with Charif, we heard, 'Well, I want to continue to grow the franchise.'"
That question now falls to Neal Shear, a former head of Morgan Stanley's commodities division and a Cheniere board member since 2014. In a phone interview Monday, the newly appointed interim CEO said it's too soon to talk about strategic changes.
"I'm a couple hours into this gig," he said. "I have to collect my thoughts and put them together."
Billionaire activist investor Carl Icahn didn't wait long to comment. On his personal website, the largest Cheniere shareholder called Souki a "talented entrepreneur" but praised the board for having the "guts" to remove him. Icahn, who first bought Cheniere shares this past summer, also criticized Souki for his selling much of his stake in the company.
Souki has sold $118 million in Cheniere stock since January, shrinking his position by about a third, according to company filings. Icahn suggested that may allow Souki to chart a riskier path for the company than would best serve investors.
$1 Salary
Souki said he respects Icahn, but rejected the notion that his stock sales represented anything improper. Since reducing his base salary to $1 from $800,000 in December 2014, he only gets paid in company shares, he noted. "I tried spending my stock at Costco, but they won't take it," he joked.
Cheniere slid 2.1 percent to $39.28 in New York trading, after falling 2.8 percent on Monday. The stock has lost 53 percent from a record high in September 2014, cutting the company's market value to $9.3 billion.
Acquisition Target
Souki's ouster may make the company an acquisition target from a large integrated oil giant, said William Frohnhoefer, an analyst at BTIG LLC in New York. He's left behind a company with a "clean structure" that will begin to start generating significant cash flow next year, the analyst said. "It's really in a sweet spot -- it's at the point of being accretive."
Souki said he isn't retiring. He still owns 5 million shares in Cheniere and plans to be active. "This time I am going to be on the other side of the fence with the ability to criticize if I don't like something," he said. He's thinking about getting back into business in March or April but wouldn't elaborate on that.
When the tankers finally do arrive at Sabine Pass, Souki will probably be in Aspen, where he intends to fulfill another lifelong desire.
"I'm going to go back to what I always wanted to do, be a ski bum," he said.
Before it's here, it's on the Bloomberg Terminal.
LEARN MORE