Source: Hodinkee, Loupe System, Herm
Watches
Six Perfect Stocking Stuffers for the Watch Lover in Your Life
No, you don't have to pony up for a Lange to get an "I love it."
by
So your friend/sibling/partner/annoying co-worker is a watch nerd, and you need a little something to give next week? Let's be honest, a fine mechanical timepiece is probably a little pricey for most, but great horological gifts don't have to break the bank. Here are six picks that no watch collector worth his or her weight in balance springs would want to be without. 
Hermès Watch Straps

There's no question in my mind: These are the best watch straps money can buy. They come in a ton of colors, bright and muted, and in smooth calf leather, textured calf leather, and exotic skins such as crocodile. My favorite is that smooth taupe leather strap in the middle, but if bright purple croc is more your speed, Hermès can oblige. You'll have to head into a store, though, and ask to buy one of these: They're not kept out on the sales floor, and they're not sold online at all. From $275; hermes.com
Worn & Wound Strap Changing Tools

A pile of beautiful straps is useless if you can't get them on your watches. New York watch blog Worn & Wound has a great pair of tools that are heavy-duty and will match the quality of your timepieces. There's a double-sided tool with screw-on caps perfect for home or the office and a smaller key-chain version for when you need to swap a strap on the go (or so you don't lose the damn thing). $25 (double-sided tool), $20 (keychain tool); shop.wornandwound.com
Hodinkee Travel Rolls & Pouches

Whether it's in the closet or a weekend bag, a nice watch needs a nice home. Hodinkee's shop has you covered, with a range of single watch pouches and multiwatch rolls for storing tickers when they're not on your wrist. The single pouches can easily fit in a jacket pocket for toting one watch around (the camo suede option is particularly cool), while the rolls are made in the U.S.A. out of sturdy canvas and can keep up to six watches protected at once. $55 (pouches), $110 (rolls); shop.hodinkee.com
Marie Antoinette's Watch by John Biggs

Most watch books are heavy on photos, light on storytelling, and meant to sit on the coffee table (some could actually be their own coffee table). John Biggs's 2015 book, Marie Antoinette's Watch: Adultery, Larceny, & Perpetual Motion, on the other hand, makes a strong case for watches as objects of genuine historical interest, with some royal gossip, competitive innovation, and a crazy heist thrown in for good measure. Buy it for a watch nerd, then steal it back and read it yourself. $17; amazon.com
Loupe System

Watches have had clear backs since the 1980s, letting wearers admire the tiny mechanisms inside. To really appreciate the little bevels and finishes (all applied by hand, of course), a little magnification goes a long way. The Loupe System is the gold standard of loupes, with camera-quality optics, a grippy rubber housing that won't scratch watches, and optional cases for attaching it to your smartphone for raking in those Instagram likes. $525; loupesystem.com
OneOf Watch Accuracy Tool

This little metal square lets you use your iPhone to monitor what's going on inside your mechanical watches. After taking one for a spin, I found the insights into my watches extremely addictive—like that my favorite vintage watch is consistently inconsistent, deviating by precisely +4 seconds per day. It's something any collector would love but might not buy for him or herself—which is, in the end, the perfect kind of gift. $578; one-of.com
Watch Next: Hands-On with the New Breitling Smartwatch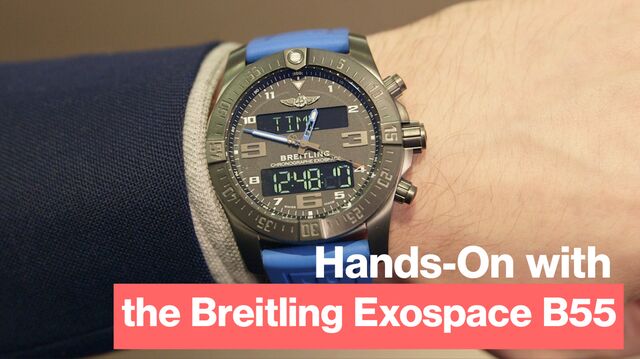 Before it's here, it's on the Bloomberg Terminal.
LEARN MORE