Bavarian Leader Confronts Merkel on Refugees on Her Own Turf
by and
Merkel ally refuses to back down at two-day CDU party meeting

CSU chairman says influx will increase without countermeasures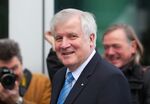 Bavarian Premier Horst Seehofer renewed his call for Germany to impose a cap on migration, refusing to back down in a clash with Chancellor Angela Merkel that's stoked conflict in their governing coalition.
Addressing a two-day conference of Merkel's Christian Democratic Union on Tuesday, Seehofer said next year's influx of migrants seeking shelter from war, persecution and poverty would top the 2015 figure of about 1 million if the government took no countermeasures.
"There is no country on earth that can take in refugees in limitless numbers and even Germany will not manage this over time," Seehofer said as Merkel and other CDU leaders sat behind him on the stage in the western city of Karlsruhe.
Merkel, who has declined to set a limit on the number of refugees as unworkable, partly blunted criticism by Seehofer and critics in her own party with a pledge to "noticeably" reduce the influx, which CDU delegates approved on Monday. CSU party head Seehofer, whose state is the main entry point for migrants coming to Germany, shook hands with Merkel on stage after his speech.
The clash between the chancellor and her Bavarian sister party erupted at a CSU conference in its power base of Munich last month, when Seehofer demanded an "upper limit" while Merkel stood alongside him, looking on silently.
"I'm not giving up on anything -- and you didn't expect that I would," Seehofer told CDU members Tuesday. "And I wouldn't expect the same of you."
Before it's here, it's on the Bloomberg Terminal.
LEARN MORE