Bank of England Says Britons Better Able to Withstand Rate Rise
by
Consumer spending should hold up as borrowing costs increase

MPC assessing economy's ability to accommodate tighter policy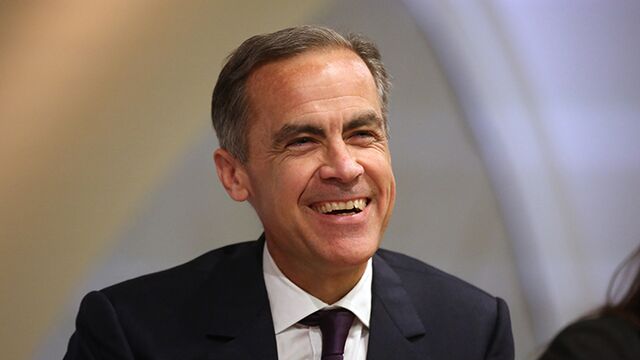 Britons have improved their finances over the past year and are in a better position to withstand interest-rate increases, the Bank of England said in its Quarterly Bulletin on Tuesday.
An estimated 31 percent of mortgage borrowers would need to consider cutting spending, working longer hours or adjusting their home loan if the BOE increased its key rate by 2 percentage points to 2.5 percent, and their income remained unchanged, according to the results of an annual survey of households. That compares with readings of 37 percent in 2014 and 44 percent in 2013.
BOE Governor Mark Carney and his colleagues on the Monetary Policy Committee are assessing high debt levels as they gauge the economy's ability to withstand an increase in the main rate for the first time in more than eight years. It's at a record-low 0.5 percent, and a majority on the MPC have said they want to see faster wage growth and stronger domestic cost pressures before beginning to tighten policy.
Relative Debt
"In aggregate, household debt remains high relative to income, but the cost of servicing that debt is historically low," the BOE said in the report. "Households appear a little better placed to cope with a rise in interest rates than a year ago and survey responses do not imply that a rise in rates would have an unusually large impact on spending."
The survey results showed that a 1 percentage point rise in the BOE's key rate would reduce aggregate spending by about 0.5 percent as a result of redistributing income from borrowers to savers, the BOE said. NMG Consulting questioned 6,007 British households between Sept. 2 and Sept. 22 for the survey.
A key consideration of officials in when to start raising borrowing costs is the amount of spare capacity in the economy. In November, while there was a "range of views" among policy makers, the MPC estimated slack at about 0.5 percent of gross domestic product, focused in the labor market. Excess capacity in the jobs market in the aftermath of the financial crisis pushed down on wage growth and inflationary pressures.
Banker Pay
Since the crisis, "labor-market conditions have improved substantially, and much of that slack appears to have eroded," the BOE said in an article in the bulletin. "Nevertheless, a modest amount of slack is likely to remain."
In another article on bank remuneration, the BOE reiterated its argument that the capping of bonuses by the European Union can "impact negatively" on the resilience of the financial system. The central bank is concerned that this will result in a higher fixed portion of the overall wage bill, limiting the proportion of total remuneration available to absorb losses in a crisis and which is aligned to long-term risks.
"It is important to look further at ways in which beneficial risk incentives are strengthened, including ways to ensure that a greater proportion of remuneration remains at risk for longer if misconduct or management failures come to light," the BOE said.
Before it's here, it's on the Bloomberg Terminal.
LEARN MORE