business
Australia's Budget Blows Out as Growth Slows, Iron Ore Slumps
By and
Forecast for iron ore price cut by almost 20% to $39 a ton

Budget poses challenge as government enters election year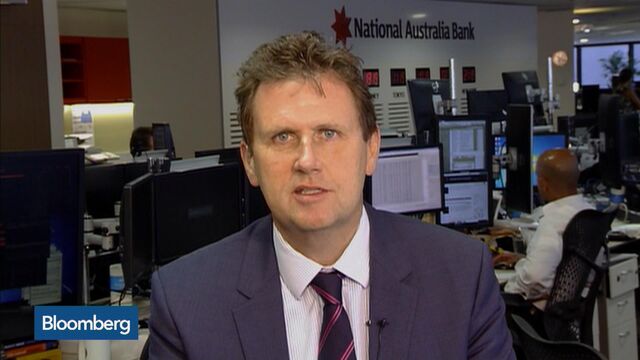 Australian Treasurer Scott Morrison is reframing the government's economic narrative toward growth and jobs and away from austerity, bowing to the fiscal reality of plunging commodity prices and recession-level wage growth.
The government's chief economic minister Tuesday pushed out an expected return to surplus in a mid-year update of the May budget and announced deficits would be A$26.1 billion ($18.9 billion) wider over the next four years. He also downgraded the forecast price for Australia's biggest export, iron ore, by almost 20 percent as supply surges and growth in key trading partner China slows.
"A budget is a means to an end, it's not an end in itself," Morrison told reporters in Perth, capital of Western Australia, which is in the middle of a massive unwinding of mining investment. "It's there to support the government's core objective, and that is jobs and growth."
The new narrative fits better with the reality Australia confronts as the economy adjusts to the end of a windfall from record-high commodity prices. Yet the widening deficit is a challenge to new Prime Minister Malcolm Turnbull less than 12 months out from an election, limiting his scope to spend on new policies including his centerpiece of fostering innovation.
'Limited Options'
The weaker budget means "the government now has very limited options, both in terms of marching ahead with real economic reform and what sweeteners it can offer voters," said Zareh Ghazarian, a Melbourne-based political analyst at Monash University. "The government is trying to back away from needing to stick with the rigid timetable to return to a budget surplus" set by former Prime Minister Tony Abbott and Morrison's predecessor Joe Hockey, he said.
Jobs growth is one of the few bright spots in the economy with the government lowering its forecast unemployment rate in the year through June to 6 percent from a May estimate of 6.5 percent after the country recorded its biggest back-to-back employment gain since 1988. The central bank, in minutes of this month's policy meeting also released Tuesday, signaled an improving outlook underpinned by record-low interest rates.
Underlying Deficit
Turnbull's government is yet to see much benefit from the gain in employment. Slumping commodity prices and the weakest run of wages growth since the last recession in the early 1990s have hurt revenue, while new outlays to support innovation and an intake of Syrian refugees have boosted spending.
The government forecast an underlying cash deficit of A$37.4 billion in 2015-16, wider than a May estimate of A$35.1 billion. Gross domestic product is now forecast to expand by 2.5 percent this fiscal year, down from a May estimate of 2.75 percent.
The deteriorating budget is due to "revenue writedowns of almost A$34 billion caused by falling commodity prices, a declining terms of trade, weaker global growth and the adoption of a more realistic domestic growth outlook," Morrison said in a statement.
Ratings Agencies
Ratings agencies were generally sanguine in response to the budget update that showed the government's net debt would peak at 18.5 percent of GDP in 2017-18. Fitch Ratings said Australia's headline fiscal balances were starting to fall behind many of its AAA-rated peers, though its gross government debt is below the median.
"Low public indebtedness affords Australia time for a more protracted return to fiscal surplus, absent a severe economic shock," Fitch said.
Australia's annual fiscal deficit will be 2.3 percent of GDP in the year through June, compared with a 1.3 percent deficit in Canada -- also rated AAA. In the U.S., the deficit is 2.4 percent.

The government said its budget repair strategy still aims to deliver surpluses, which would build to at least 1 percent of GDP "as soon as possible."
The government lowered its assumed iron ore price to $39 a ton, in line with current market prices and down from an estimate of $48 in May, wiping around A$7 billion from tax revenue over the forecast period. The benchmark iron ore price has slumped 45 percent this year on faltering demand in China, the largest consumer, and as the biggest exporters continue to raise supply to lower production costs and defend market share.
Iron ore will extend its decline into the $20 a metric ton range by 2017 or even sooner as a global surplus swells, Axiom Capital Management Inc. said this month. Slumping commodity prices have weighed on the share market, with Australia's benchmark S&P/ASX 200 index closing Tuesday at its lowest level since July 2013.

Australia's free-trade agreement with China, while a long-term positive for the economy, will strip A$4.2 billion from revenue as tariffs on wide range of imported goods are removed, today's documents showed.
The government has also struggled to pass a number of savings measures through the Senate, where it lacks a majority, making its goal of returning the budget to surplus even more difficult.
— With assistance by Benjamin Purvis
Before it's here, it's on the Bloomberg Terminal.
LEARN MORE