Taking a Ride on Yuba's Spicy Curry, the Escalade of Electric Bikes
Can a $4,500 cargo hauler finally sell Americans on electric bikes?
By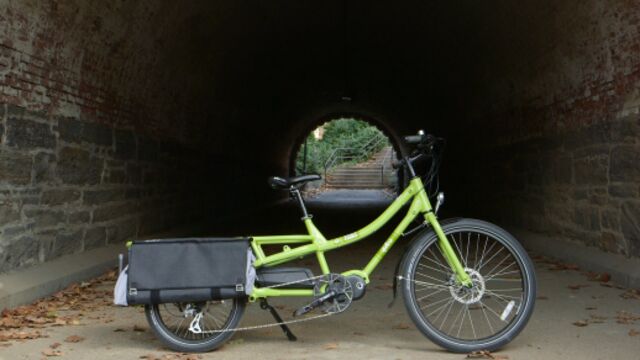 At some point, I started acting like an aggressive cab driver on the crowded streets of New York, scooting away from red lights and accelerating to change lanes whenever the smallest gap opened. It didn't matter that my machine was green—not yellow—and had two wheels rather than the customary four. Yuba's Spicy Curry bicycle, nearly 7 feet of overengineered metal packing a 350-watt electric motor, encourages what would be poor decisions on a normal bike.
In fact, that's its rationale. Ride up a massive hill? No sweat. Pedal three screaming toddlers to the playground? With ease. You might even haul a bunch of groceries and a load of firewood. Yuba says the bike can carry up to 300 pounds of cargo in addition to the rider.
The catalyst for these ambitious two-wheeled jaunts is something called pedal-assist. The Spicy Curry 1 and similar bikes don't have throttles; additional power is activated only when a rider is pedaling. Yuba's new bike offers four levels of battery-powered boost and is capable of transforming an average rider into a speed machine.

On an otherwise empty bike, setting No. 4 (also known as superhero gear) will have a rider rocketing uphill at 20 miles per hour while barely pedaling. This is the feature that lets even a casual cyclist easily zip ahead of traffic. Not surprisingly, about three out of four Spicy Curry customers have small children, according to Yuba founder Benjamin Sarrazin. The bike has also caught on with a few farmers, entrepreneurs, and tradesmen who need to haul things and don't want to bother with parking on a busy city block.
It's a simple and sweat-free thrill. But most people have bicycles to, well, cycle. Sweat is a large part of the process, if not the outright goal of a ride. That's the main reason Americans haven't yet been sold on electric bikes. Of the almost 20 million bicycles bought by U.S. riders last year, only about 200,000 had motors, according to Electric Bikes Worldwide Reports, an annual study on the state of the segment.
"In the U.S., bicycling kind of stopped being transportation in the 1940s," said Ed Benjamin, one of the report's authors and a consultant for bike manufacturers getting into the electric game.
The cost doesn't help. With cutting-edge composite metals and expensive battery technology, electric bikes generally sell for upwards of $2,000, far more than a quality moped or one of those "hoverboards" Wiz Khalifa has been tooling around on. That means an electric bicycle is aimed at a rather narrow swath of consumers: affluent people who really love bikes, but not necessarily cycling. Europe and China have a lot of these people—they're called commuters. Chinese riders bought about 30 million electric bicycles last year, while Europeans jumped on 2 million.
Bicycle makers are betting U.S. consumers will come around. Even Ford recently rolled out an electric bike. It's hard to discount the product's potential, particularly with aging cyclists, parents, and millennials who don't have enough cash for a car. "To be frank, the normal bike business sucks," Benjamin said. "There are a lot fewer people buying $7,000 road bikes than there are baby boomers who realize that the hill has somehow become a lot steeper."
Sarrazin says his biggest challenge hasn't been demand, but distribution. While consumers are keen on the machines, bike shops are less eager. Owners worry about being able to service and source electric motors, and their staff—generally serious cyclists—are skeptical of anything with a motor. "It's a very conservative industry that's always sensitive to change," Sarrazin says.
Distribution aside, there are other obstacles to overcome. While the Spicy Curry is meant for urban riders, its hefty price makes locking one up on the street a bad idea. Meanwhile, hauling a 55-pound mass up a flight of stairs is almost impossible. Its a vehicle intended to replace a car, yet wants for a garage.
The value of the Spicy Curry probably lies in its cargo capabilities: the thick frame, massive platform, and wide variety of bags and attachments make it ideal for hauling the day-to-day detritus of an urban life. An electric motor on a regular bike just seems lazy. But an electric motor on a cargo bike is defensible at a farmers market, particularly if one pedals home with a big basket full of kale and pumpkins.
It's not clear that Americans will ever warm up to electric bikes. But if the category stands a chance of catching on, the Spicy Curry might be the perfect appetizer.
Before it's here, it's on the Bloomberg Terminal.
LEARN MORE