Your Kid Just Got a Drone. Should You Get Insurance?
Thousands of novice pilots will be unwrapping drones for Christmas, and some are going to crash and burn.
By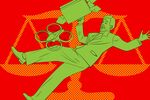 The next wave of hobby drones will be wrapped in boxes underneath Christmas trees before they fill the skies. If industry sales projections come true, the holiday season will put tens of thousands of relative novices at the controls of small unmanned aerial vehicles in densely populated cities and suburbs. All that amateurish swooping over houses and cars, spooking pets and dodging humans, will invariably lead to cracked windows and more than a few bloody injuries.