Yellen Links Policy Path to a Natural Rate With 'Magical' Origin
by
Fed chair says neutral rate estimates are highly uncertain

Milton Friedman warned against using them back in 1968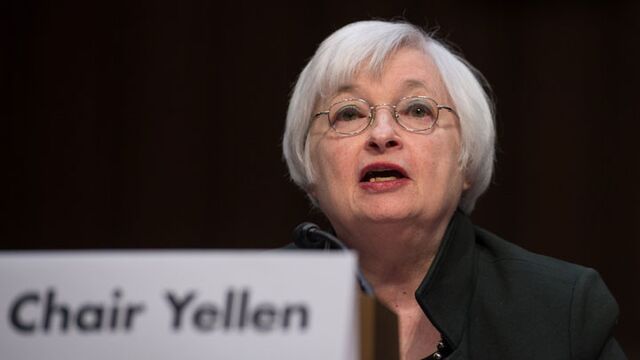 Federal Reserve Chair Janet Yellen is putting stock in a theoretical construct to help guide monetary policy that she admits can be subject to big errors and that a colleague has suggested may have a touch of magic about it.
The concept that Yellen has the Fed focused on is something called the neutral, or natural, rate of interest. It's the borrowing cost -- adjusted for inflation -- that neither expands nor contracts the economy. Officials calculate that it's close to zero now and probably will rise gradually over time.
If that's the case, then Fed policy is pretty expansionary and will remain so even if the central bank lifts the federal funds rate target to 0.25 percent to 0.5 percent on Dec. 16, as is widely expected. After taking account of underlying inflation that Yellen reckons is currently about 1.5 percent to 1.75 percent, the benchmark borrowing cost will still be well below zero in real terms -- and still below the neutral rate.
The trouble is that there's no way to know for sure. As Yellen herself put it in a Dec. 2 speech, the natural rate is not "directly measurable" so there is "considerable uncertainty" about where it stands and particularly where it's headed.

Indeed, one of the computer models that the Fed uses to calculate it has an average margin of error of about two percentage points, she noted in a footnote to her talk at the Economic Club of Washington. And that model contains what San Francisco Fed President John Williams has called a "magical" variable to help determine the natural rate, or R*, in economists' jargon.
Source of Instability
"Policies guided by natural rate estimates lead to instability when these rates are uncertain and policy makers cannot have accurate estimates," said Athanasios Orphanides, a former Fed official who is now a professor at the Massachusetts Institute of Technology in Cambridge.
That means more frequent recessions and more swings in inflation as officials jerk policy one way then the other in a vain effort hit the natural rate sweet spot, he added.
Yellen seems aware of the risks and made clear in her speech that the Fed would not slavishly track the R* projections. "The actual path of monetary policy will depend on how incoming data affect the evolution of the economic outlook," she said.
Still, former Fed official Roberto Perli said the central bank's estimates of the neutral rate will be a "very important" guide to its actions after liftoff. And that's a big reason why the Cornerstone Macro LLC partner is beginning to suspect that the pace of increases may be slower than the four quarter-percentage-point moves that policy makers have penciled in for 2016, based on the median estimate of their rate projections in September.
Milton Friedman
The use of the neutral rate to guide monetary policy has long been controversial. The late Nobel prize-winning economist Milton Friedman argued against it in 1968, telling the American Economic Association that monetary growth would be "buffeted this way and that" if central bankers tried to follow it.
Fed officials distinguish between a short- and long-run R*. The latter is in place when the economy is healthy, with the U.S. at full employment and inflation at the Fed's 2 percent goal. Extrapolating from their September forecasts, policy makers peg that real rate at 1.5 percent and don't see their funds target closing in on that inflation-adjusted level until the end of 2018.
Yellen said the neutral rate may have been depressed in the shorter run partly by "persistent economic headwinds" that have restrained growth. They include slower productivity growth, a stronger dollar and deleveraging by debt-burdened households.
"It's harder than it's been for many years" to pin the neutral rate down, said Ethan Harris, co-head of global economic research at Bank of America Corp. in New York.
While some of the domestic forces that have reduced it are waning -- household finances are in better shape and banks are stepping up their lending -- it's still being held down by the weak global outlook and the strong dollar, he said.
Overseas Headwinds
"A key factor that many analysts sometimes overlook is the importance of international developments," agreed James Hamilton, an economics professor at the University of California, San Diego. "While the U.S. seems to be registering solid growth, that's much less clear for Europe, Japan, China, and some emerging market countries."
Further complicating the debate is the possibility that policy makers may have over-estimated the long-run value for R*. While those calculations have been reduced in recent years, they're still well above the level implicit in the U.S. Treasury debt market, which Perli reckons is about a half percent.

In his computer model, the Fed's Williams tries to get around the difficulties in sorting out all the influences on the natural rate by effectively encompassing them in a single variable Z.
"Z is the special sauce" of the model he developed with senior Fed official Thomas Laubach, Williams told a Brookings Institution conference in Washington on Oct. 30.
The trouble with that approach is that while it may help identify what R* is now, it won't say much, if anything, about where it's headed.
"We clearly can't base policy decisions on a magnitude that is so hard to measure," Hamilton said in an e-mail. "It makes sense in this situation to go slow in raising rates until it's very clear that global deflationary pressures have abated."
Before it's here, it's on the Bloomberg Terminal.
LEARN MORE