business
Trafigura Profit Rises to $1.1 Billion on Record Oil Trading
By
Oil price volatility, contango markets boost annual results

Trader impairs assets by $407 million on distressed markets
Trafigura Pte Ltd. said adjusted profit climbed 6.5 percent as oil-trading earnings surged by half to a record, countering a difficult year for its metals business and a number of asset writedowns.
Profit including investment gains and writedowns rose to $1.1 billion in the 12 months through Sept. 30, from $1.04 billion the previous year, the third-largest independent oil trader said on Monday in a statement on its website. Revenue fell 23 percent to $97.2 billion as prices for commodities from aluminum and zinc to crude fell to six-year lows.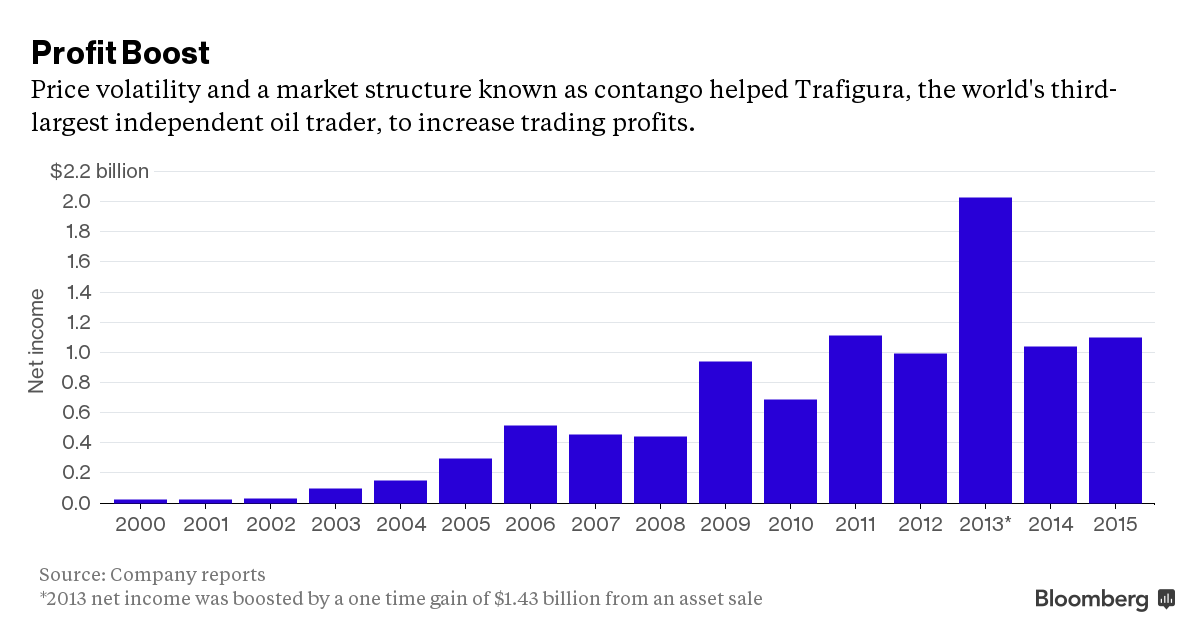 Oil traders at the Singapore-based company with major trading operations in Geneva benefited from a market structure known as contango, allowing them to lock in profits by buying and storing oil to be sold at higher prices in the future. Gross profit for the oil and petroleum products division soared 50 percent to $1.7 billion. 
"Oil performance was strong due to low prices, volatility and a contango-structured market which allowed us to benefit out of our storage positions," Chief Executive Officer Jeremy Weir said in video posted on the company's website. Weir became CEO last year when he replaced co-founder Claude Dauphin, who died in September.
Rosneft Business
Weir said in the video that Trafigura will remain owned by a group of 600 employees with no plans for a public listing. Those employees received $775 million as the company bought back shares, down from $885 million the previous year.
Oil trading volumes surged 22 percent to a record 146.3 million metric tons as the company handled more than 3 million barrels a day and struck deals to boost business with Rosneft OAO, the Russian state-controlled oil producer operating under U.S. sanctions.
The company said prepayments for commodities almost tripled to $1.07 billion on "increased pre-financing activity related to oil trading."
Gross profit rose to $2.6 billion, an increase of 28 percent from 2014, closely held Trafigura said. This represents a gross margin of 2.7 percent compared with 1.6 percent the year before. Earnings before interest, taxes, depreciation and amortization climbed 43 percent to $1.86 billion. 
Gross profit for metals was little changed at $920 million. Metals and minerals volumes increased by 6 percent to 52.1 million metric tons. The gain came even as a slowing Chinese economy cut demand amid supply gluts and lower prices, according to Trafigura, the second-largest metals trader.
Executive Departures
Trafigura said it increased trading volumes in non-ferrous metals concentrates as well as liquefied natural gas. The company has market-leading positions in both sectors, it said.
Dauphin died in a Bogota hospital in September after battling cancer. The impeccably-dressed Frenchman co-founded Trafigura with five others in 1993 and served as CEO until March 2014. He was executive chairman until he died. The company intends to buy out his stake in Trafigura, which the company has said was less than 20 percent.
CEO Weir took over the leadership of the metals and minerals division in May after Simon Collins was the first of a number of senior departures. Christophe Salmon became chief financial officer after Pierre Lorinet left in September and Duncan Letchford, CEO of the company's hedge fund division Galena Asset Management, departed last month as Trafigura closed its flagship Galena Metals Fund.
Sound Finances
The yield on Trafigura's bond due in 2018 climbed to a record 10.87 percent as of 8:18 a.m. in London, as investors fretted about commodity companies debt following restructuring at publicly listed traders Glencore Plc and Noble Group Ltd.
"We have a long record of sound finances, strong liquidity and robust credit management," he said. "We remain price agnostic to commodity prices."
Trafigura reported asset impairments of $407 million, notably in bulk commodities, it said. "The impairments reflect distressed conditions in commodity markets and their likely impact on the company's assets," the company said in a statement.
Asset Writedowns
They included a $244 million writedown on the value of its AEMR iron ore project in Angola, a $100 million impairment on the Burnside coal export project in Louisiana and $48 million on warehousing assets in the Democratic Republic of Congo.
The writedowns were partially offset by gains of $142 million from the sale of a 50 percent stake in its MATSA mine in Spain to Mubadala Development Co. Trafigura posted an additional gain of $148 million after revaluing its remaining half-interest in the mine.
The results are the first to be reported under a Singapore registered entity. Trafigura formed a new unitary board of directors, which takes on duties previously covered by its supervisory board. Sipko Schat, a former executive at Rabobank, will join the board and supervisory committee in January while Lord Thomas Strathclyde and Eric de Turkheim are stepping down at the end of this month.
— With assistance by Javier Blas
(
Adds payout to employees in fifth paragaph.
)
Before it's here, it's on the Bloomberg Terminal.
LEARN MORE