Third Avenue Sought Internal Loan Approval Before Fund Shut
by
Fund-to-fund bridge lending helps firms avoid fire sales

BlackRock, Legg Mason also requested permission from SEC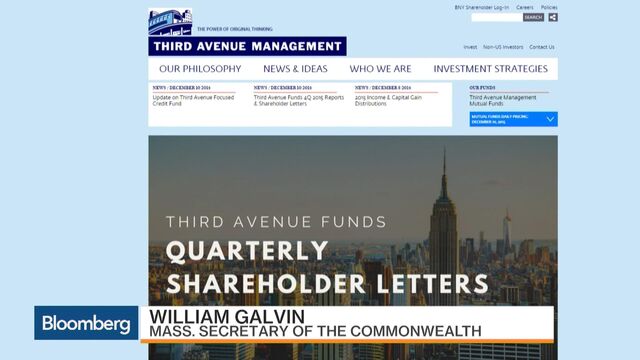 Two months before it froze cash withdrawals from a $788.5 million high-yield bond fund, Third Avenue Management requested approval for interfund lending, a program sought by an increasing number of mutual fund managers to bridge short-term liquidity needs.
Third Avenue's request, disclosed in an Oct. 14 filing with the U.S. Securities and Exchange Commission, would allow its mutual funds to temporarily borrow money from one another. Investors who are redeeming could get paid with the loans almost immediately, even if it took the firm several days to receive cash from the sale of assets.
Third Avenue's application is pending, and it's unlikely that an earlier approval would have prevented the shutting of the Focused Credit Fund because the loans only last a few days and don't provide longer-term liquidity. The firm pursued fund-to-fund lending as a precaution for 2016 and not to deal with the redemptions from the credit fund, said a person familiar with the matter, who asked not to be identified because the information is private.
Still, the move highlights the increasing liquidity strains money managers face as bonds become more difficult to trade and banks tighten credit lines to mutual funds. Asset managers including BlackRock Inc., Allianz Global Investors Fund Management and Legg Mason Inc. have asked the SEC in the past year to permit interfund borrowing should they receive a surge in redemptions.
"The argument in favor of these orders is that it is less expensive than borrowing from a bank while you dispose of the assets in a more orderly fashion, presumably at better prices," said Stanley Griffith, a former mutual fund lawyer.
Barse Leaves
The Third Avenue credit fund had plenty of cash and drew about $50 million on a $100 million credit line in November to ensure it could meet future redemptions, said the person familiar with the matter. The loan was repaid on Dec. 9, the day the firm announced the fund's closure.
Third Avenue said in the filing that it expected the firm's credit line wouldn't be available once the SEC approved its lending request. Several other funds that have submitted such applications say banks are planning to either eliminate or charge higher fees for their credit lines.
Third Avenue last week suspended cash redemptions from the credit fund and placed its assets in a trust to allow for an orderly liquidation over time. Chief Executive Officer David M. Barse left the firm, the company said today.
Massachusetts also announced today that its securities division is investigating the fund closure and sent a subpoena to find out when and how the decision was made.
Fund-to-fund loans typically have a life of seven days. After selling an investment, managers must often wait up to three days to receive payment. But firms regularly pay redeeming shareholders the following day -- a gap bridged by interfund loans.
Better Terms
The loans also give managers financing at more advantageous terms. Borrowing funds typically pay lower rates than those offered by banks, while lending funds earn more than they would from alternatives such as money markets.
The SEC has approved about 30 such lending requests since 1990, according to Marco Adelfio, a partner in the financial institutions group of the law firm Goodwin Procter LLP.
Third Avenue, which was founded by distressed investor Martin Whitman, set up the credit fund in 2009. It began to receive steady inflows of cash in early 2013 as investors demanded higher yields. By July 2014, the fund's net assets had more than tripled to $3.5 billion, according to data compiled by Morningstar Inc.
The credit fund primarily held lightly traded bonds, bank loans and other forms of debt, ranging from claims against the defunct investment bank Lehman Brothers Holdings Inc. to bankruptcy financing extended to a North Carolina resin producer. Third Avenue's four other main mutual funds had at least 80 percent of assets in common stocks and warrants as of Sept. 30, according to regulatory filings.
Torrent of Redemptions
The fund started to experience a series of monthly outflows in April of this year, according to Morningstar data, and what began as a trickle turned into a torrent during the second half. Net withdrawals totaled $734 million between July and October, when Third Avenue applied on behalf of all of its funds for an exemption to allow loans between them.
"If I ran a high-yield bond fund, this is the number one exception I would have wanted in my stocking," said Mercer Bullard, the founder of Fund Democracy Inc. who formerly reviewed requests for interfund lending at the SEC. "When you have a falling market, you don't want to be selling in a quasi fire sale."
To get clearance for such lending, money managers must tell the SEC how their programs will work and what rules they will put in place to guard against conflicts of interest. The SEC has yet to approve at least several requests submitted last year, Adelfio said.
Before it's here, it's on the Bloomberg Terminal.
LEARN MORE