Sturgeon Seeks to Broaden Scottish Economy as Oil Price Plunges
by and
Oil `is not the be all and end all,' SNP leader says

Scottish government discussing bond sale under new powers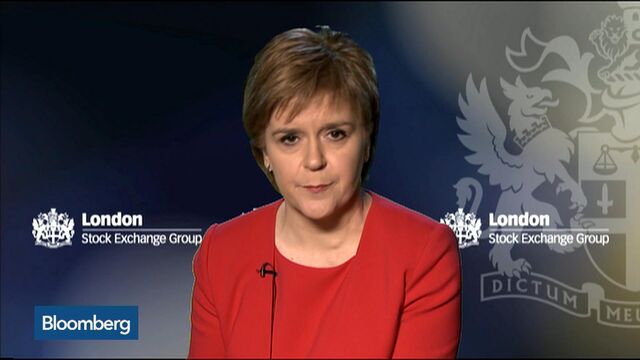 Scotland is seeking to accelerate the economy's diversification away from oil and gas as the plunging price of crude undermines the industry's viability, First Minister Nicola Sturgeon said.
While making efforts to support jobs at risk in the North Sea, the Scottish government is stepping up investment in industries including life sciences, digital technology and renewable energy, Sturgeon, who heads the majority Scottish National Party administration, said in an interview with Bloomberg Television in London on Monday.
"Although oil and gas has been very important, it's not the be all and end all of the Scottish economy," Sturgeon said. "We have a responsibility, though, to up our efforts to make sure our economy is diverse."
The SNP's economic case for an independent Scotland in last year's referendum was underpinned by an oil price of $110 a barrel. Amid a global oversupply that will only be exacerbated by the removal of sanctions on Iran, oil fell below $35 a barrel in New York on Monday for the first time since 2009.
Oil Argument
"It was never part of the argument for Scotland being independent that it all rested on oil and gas," Sturgeon said. While she defended Scottish government predictions, saying that "if we got them wrong, we were in good company," Sturgeon conceded that "we should have made the argument better that Scotland is not just about oil and gas."
Sturgeon, who came south from Edinburgh to ring the bell to open the London Stock Exchange, said that she was in the U.K. capital to rally investment in Scottish companies. She said her government will make use of the additional fiscal powers it is being granted from Westminster, including the ability to issue Scottish debt. She said they still fall short of the powers her administration wants.
"Of course we will be seeking to use these powers to best effect," said Sturgeon. The matter of "bond issuing is something I will touch on in discussions at the London Stock Exchange today," she said.
With the SNP polling strongly before elections to the Scottish Parliament due in May 2016, Sturgeon said the push for independence was still very much alive despite the carnage in the oil and gas industry.
"What we're focused on right now is to build our economy, to diversify our economy," Sturgeon said. Another independence referendum will follow "if and when there's majority support for it. Scotland will become an independent country. That's the direction of travel."
Before it's here, it's on the Bloomberg Terminal.
LEARN MORE