South Africa Tries to Restore Credibility After Zuma U-Turn
by , , and
New Finance Minister Gordhan says spending limits `sacrosanct'

Rand, bonds rebound after last week's political turmoil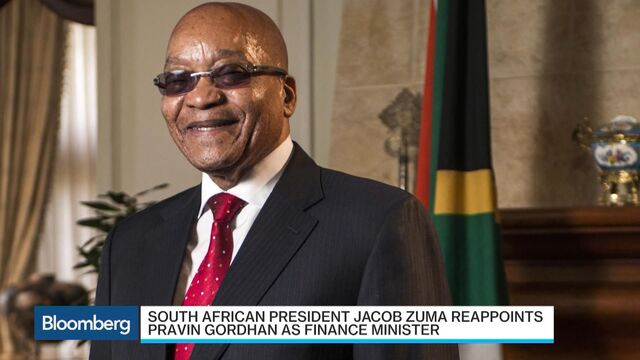 South Africa's government tried to shore up credibility after President Jacob Zuma's debacle over who should run the finance ministry called into question his ability to oversee a deteriorating economy.
Business leaders pressured senior members of the governing African National Congress into demanding that Zuma review his choice of finance minister after suddenly firing Nhlanhla Nene last week, three people familiar with the situation said. Pravin Gordhan, Nene's predecessor who came back to the job at the weekend after Zuma back-tracked, moved to reassure markets by saying limits on budget spending were "sacrosanct."
"The facts about the developments that took place last week and the response of the financial markets are well-known," Gordhan told reporters in Pretoria. "Our government is acutely aware of the financial impact this had on those who are invested in this economy. A democratic government has a duty to listen and respond appropriately."
Zuma, 73, faces the greatest threat to the country's stability since taking office in 2009 after his decision to remove Nene injected fresh turmoil to an economy that was already being imperiled by a slump in commodity prices. Coming less than a week after credit-rating companies pushed the nation closer to junk status, it deepened a selloff in the nation's assets, pushing the rand to a record low and bond yields to their highest in seven years.
Gordhan Returns
The rand rebounded as much as 6 percent against the dollar on Monday. Yields on rand-denominated government bonds due in December 2026 dropped 107 basis points, or 1.07 percentage points, having soared 172 basis points to as high as 10.65 percent last week.
Gordhan, 66, was named as finance minister on Sunday after Zuma abandoned his initial choice of little-known lawmaker David van Rooyen. The return of Gordhan, who held the post between 2009 and 2014, was decided on "after receiving many representations to reconsider my decision," Zuma said in a statement on Sunday.
"The fact that abrupt decisions can be made without any reason and without any consultation, it will take a lot more to restore genuine confidence in South Africa," said Nicky Weimar, an economist at Nedbank Ltd., which has assets under management of 233 billion rand ($15.4 billion), including government bonds.
Most members of the ruling ANC held back from publicly criticizing Zuma, but there's no doubt is position has been weakened further. Tito Mboweni, a former central bank governor and member of the party's National Executive Committee, said in an interview with Bloomberg TV that "the president has handled this situation very badly."
'Precarious'
"The president's own position now is much more precarious that it has ever
been in his entire term in office," said Daniel Silke, director of Cape Town-based Political Futures Consultancy. "His own support group and potential choice of successor were also negatively affected by what occurred."
For many South Africans, Zuma has become a symbol of the government's failure to translate two decades of democracy into a fairer distribution of wealth in the socially and racially divided country. Public distrust in the president stands at a record of 66 percent compared with 37 percent in 2011, an Afrobarometer poll of 2,400 people released last month showed.
Gordhan said the government won't cut growth-enhancing projects or programs supporting the poor. He vowed to defend the country's investment grade rating, support any state companies whose finances are at risk and protect the value of its stocks and bonds.
The comments aimed at investors reinforced how Zuma's about-face was reminiscent of when financial markets forced the hand of politicians in Europe after soaring borrowing costs led governments to change premiers or seek international bailouts.
"There's no doubt that the markets forced his hand, no doubt whatsoever," said Peter Kinsella, the London-based head of emerging-market economic and currency research at Commerzbank AG. "Markets like stability and don't like politically-driven instability."
Before it's here, it's on the Bloomberg Terminal.
LEARN MORE