Ex-Cheniere CEO Souki Shrugs Off Icahn Criticism of Stock Sales
by , , and
After Cheniere Energy ousts CEO, Icahn criticizes stock sales

Ex-Cheniere chief cut holdings after leading U.S pay ranking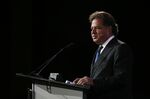 Charif Souki, freshly ousted as Cheniere Energy Inc.'s chief executive officer, shrugged off activist investor Carl Icahn's accusation that he spent his final years at the company dumping $216 million of stock while taking outsized risks.
In a statement Monday praising the board's "guts" for seeking a new leader, Icahn took a parting shot at the deposed CEO. It is "telling that Mr. Souki sold a great deal of his stock, which made it somewhat easier for him to 'swing for the fences,'" Icahn wrote. It was "a win-win for Mr. Souki, but not necessarily for the shareholders."
Souki said in an interview with Bloomberg that he simply needed to convert some of his holdings to cash.
"I tried spending my stock at Costco, but they won't take it," he joked. Of Icahn's push for changes at the company, he said: "There was a difference of opinion and different point of view. That's how he makes his decisions."

Souki, who ranked as the highest-paid U.S. CEO in 2013, owned as many as 9.4 million shares of Cheniere as early as that year after the Houston-based company more than doubled his stake with an equity grant then worth $133 million. After disposing of much of his holdings over the past two years through automated trading plans and other sales, a filing earlier this month showed he directly held 3.4 million shares. Souki said Monday that he owns about 5 million shares and plans to be a vocal investor.
Cheniere has slumped 43 percent this year. The company said late Sunday it appointed Neal Shear, former head of Morgan Stanley's commodities division and a Cheniere board member since 2014, to take over as interim CEO. Souki said directors wanted him to slow its growth in liquefied natural gas projects, and that while he would have carried out that wish, he would have done it unhappily.
Disagreements over strategy were just part of what precipitated the departure, said William Frohnhoefer, an analyst at BTIG LLC in New York. The stock sales "rubbed other shareholders the wrong way," he said.
Before it's here, it's on the Bloomberg Terminal.
LEARN MORE