RBS CEO Sees Investment Bank Profit 4 Years Away Amid Cuts
by and
Restructuring of division is `very well advanced,' CEO says

CEO aims to resolve most misconduct issues by year-end 2016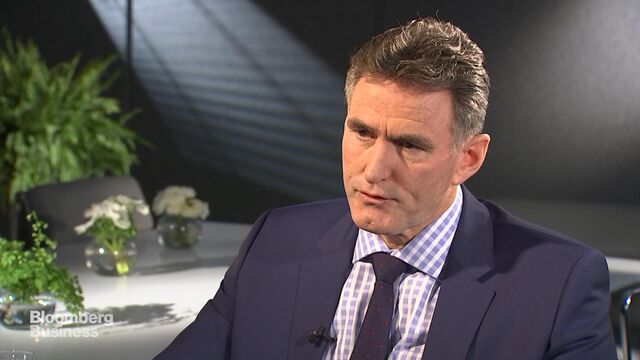 Royal Bank of Scotland Group Plc Chief Executive Officer Ross McEwan said the restructuring of the investment bank is "very well advanced" and it will return to profit within four years, as he continues to shrink the division's global operations to focus on U.K. and western European clients.
"The work in the corporate and institutional bank primarily will be finished by the end of this year," McEwan, 58, told Bloomberg Television's Manus Cranny in an interview in London on Friday, when ruling out a full disposal of the unit. "Why would we give up great strategic positions where we are some of the biggest players of these market places, where we can make money? We'll show that over the next three to four years."
European investment banks are undertaking some of the deepest overhauls since the financial crisis to bolster earnings hurt by stricter capital rules, rising costs tied to misconduct and less profitable debt trading. Since taking over two years ago, McEwan has eliminated thousands of jobs, exited countries around the globe and sold assets to help return Britain's largest government-owned lender to an annual profit and resume dividends.
"They're ahead of the curve and executed very well," said Joseph Dickerson, an analyst at Jefferies International Ltd. with a buy rating on the shares. "It is a bit different from other investment banks at the moment, which are trying to figure out business models, RBS are somewhat ahead of the curve on restructuring." 
RBS's "biggest challenge" for the securities unit is "reducing the scope of the operations, both from the product set and geographic standpoint" over the coming year, Dickerson added.
The stock was little changed at 285.4 pence at 8:36 a.m. in London trading on Monday. RBS has declined 28 percent this year, trailing Standard Chartered Plc's 46 percent slump.
'Strategic Strengths'
McEwan, who succeeded Stephen Hester in October 2013, said the investment bank has "strategic strengths" in rates, foreign-exchange and credit including debt capital markets, and isn't losing market share among its target clients in the U.K. and western Europe. RBS will take "another two to three years" to reduce the number of countries the division operates in to about 13 or 14 from 37 when he started, according to the CEO.
RBS has made seven-consecutive annual losses since receiving 45.5 billion-pounds ($69 billion) in the world's biggest taxpayer bailout. The shares have dropped about 28 percent this year, making it the second-worst performer among Britain's five largest lenders.
At the corporate and institutional bank, which houses securities-trading activities, the loss almost doubled to 1 billion pounds in the third quarter as revenue slumped by nearly half. Income from trading products tied to currencies declined 30 percent, while revenue from interest-rate trading and credit trading tumbled 14 percent and 68 percent, respectively.

RBS plans to cut its risk-weighted assets to below 300 billion pounds this year and exit most of the assets placed in RBS Capital Resolution, its bad bank. The lender last month announced the disposal of its Russian banking assets to Expobank LLC for an undisclosed amount after earlier completing a sale of Citizens Financial Group Inc. in the U.S.
Finish Job
"Because we've had such a good start over the last two years and taken so many assets off the books and recreated our capital position so quickly, we're left in a position now that we can go a little bit slower next year if that means we get a better value for the assets we've still got left to sell," McEwan said. "It's not my objective to go slower, my objective is to finish the job by the end of next year."
RBS is also aiming to sell another "few percentages" of its commercial loan book in the next two years after the Bank of England indicated lenders' exposure to the asset class may face more scrutiny in future stress tests. RBS has the greatest exposure to the debt of any British bank at 43.3 billion pounds, according to a report by KPMG printed in the Times on Dec. 7. At its peak seven years ago, the bank had lent more than 50 billion pounds to commercial real estate in the U.K. and Ireland, McEwan said.
Dividend Plans
The CEO reiterated he aims to deal with the remaining "big conduct issues" by the end of 2016 in order to resume dividend payments the following year. The bank is awaiting a settlement with U.S. authorities over claims of misconduct in its handling of mortgage-backed securities. The charge could be as much as 5.2 billion pounds, Chintan Joshi, an analyst at Nomura International Plc, wrote in a report in October.
"We've still got the mortgage-backed issue in the U.S. and we've clearly said to the market that we don't know how big it is, but we suspect it will be a big one," McEwan said. "One of my hallmarks has been to 'build capital, build capital, build capital' because if you've got a strong base, no matter what the shock, you can get yourself through it."
The Bank of England will probably keep the key interest rate at a record low through 2016, according to McEwan.
"We're building our business around the fact that they won't be moving and if they do, that's nice to see," he said. "You've got to be strong on the cost position because you're not getting growth in your revenue. A lot of businesses have relied on interest rates to give them revenue and it hasn't happened."
McEwan declined to comment on whether he'll take his first bonus since assuming the role, calling it a "distraction." With RBS still 73 percent government owned, the bank needs to be "aware of how the public feel about us and particularly what we do in terms of remuneration," he said.
Before it's here, it's on the Bloomberg Terminal.
LEARN MORE