Qualcomm Said to Lean Against Breakup Seen Harming Chip Prowess
by and
Decision on separating chip, technology licensing coming soon

Splitting up company seen making it harder to spur innovation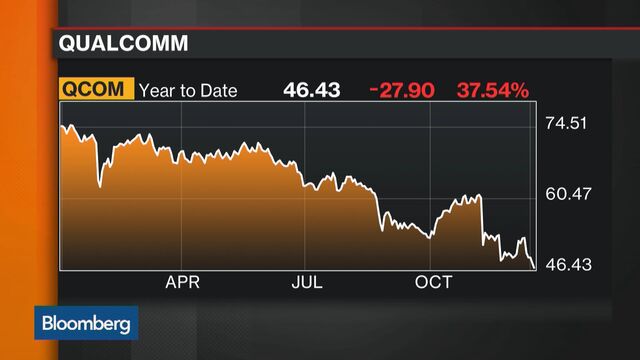 Qualcomm Inc. Chief Executive Officer Steve Mollenkopf is struggling with the chipmaker's worst stock decline since the financial crisis, dragged down by earnings shortfalls and antitrust inquiries around the world. Things may get worse if he yields to pressure from some investors to split the business in two.
The company has been considering options including whether to separate its chip and technology licensing units -- a dual business structure that for decades has nurtured Qualcomm's success by allowing it to collect royalties on the patents developed in its chip division's labs. The chipmaker's board will meet in the coming days, according to a person familiar with the matter, and may announce a decision by the end of the week. Management is leaning toward keeping the company together, two people familiar with the matter said, emphasizing that no decision had been made yet.
Sales growth has stalled since last year, hurt by the loss of orders from Samsung Electronics Co. and as Chinese phone makers dragged their feet on paying license fees. The company is now under investigation on three continents, leading some investors to argue that regulators might relent if Qualcomm gave up a bit of its dominance in the smartphone-chip market by breaking itself in two.
Symbiotic Nature
Yet others argue that management should hold its nerve and stick with the arrangement that made Qualcomm's phone technology central to the explosion of the mobile Internet, and helped fuel sales growth that more than doubled since 2010. The two parts of the business are too tightly intertwined to work separately, they say, and Qualcomm's lawyers usually win in scuffles with regulators and rival companies seeking to challenge its business practices.
"These are two businesses that would not do better separately," said Daniel Morgan, a fund manager for Synovus Securities Inc. "The latest and greatest argument is everyone has to split. It's getting a little out of hand."
The symbiotic nature of the company's units means that undertaking a split -- following a parade of corporate spinoffs and planned separations by companies such as Hewlett-Packard, EBay Inc. and Yahoo! Inc. -- makes much less sense for Qualcomm, said Morgan, whose fund owns the stock.
The world's largest mobile-phone chip maker gets the majority of its profit from licensing patents it developed that cover the fundamentals of all modern phone systems. The bulk of Qualcomm's revenue, meanwhile, comes from selling processors and modems that run smartphones. The cash influx from royalties -- $6.8 billion of pretax income in its most recent financial year -- helps fund research and development at the chip unit, which in turn creates patents for the licensing business.

Qualcomm paid a fine to settle an antitrust investigation in China in February, confirming its right to charge royalties in the world's largest mobile phone market. When it imposed the $975 million fine, China's National Development and Reform Commission said Qualcomm's license fees were too high and the company used its dominant position to force customers into accepting its conditions. Crucially, it allowed Qualcomm to continue basing its royalty charges on the price of the phone, rather than forcing a change to using the cost of a chip as the basis, which would have been a reduction of as much as 20 times. Still, negotiations with handset makers in the country have worn on longer than the company expected, delaying a projected increase in payments.
Meanwhile, South Korea -- home to Qualcomm's second-biggest customer, Samsung, is accusing it of breaking the law. That country is also examining whether to force the switch of licensing calculations to base them on lower-priced chips. Taiwan has also launched an investigation and the U.S. Department of Justice is taking a look at Qualcomm as well. In addition, the European Union has accused the company's chipset business of paying customers not to use rival products.
"Trade commissions all over the world view Qualcomm as a company that colludes with itself," said Mike Green, a fund manager at American Money Management LLC. "Qualcomm should spin off the licensing business to unlock shareholder value and they should have done it many months ago."
Green has cut his holdings in Qualcomm down to about 3 percent of his portfolio, compared with a peak of more than 40 percent in 1999.
Stock Tumbled
The chipmaker has denied any wrongdoing and said it expects to prevail wherever it faces legal challenges. Spokeswoman Emily Kilpatrick declined to comment on the decision facing the company.
Qualcomm's stock has tumbled 36 percent this year, giving it a market value of $71 billion. That's down from a peak of more than $130 billion in 2014, when it surpassed Intel Corp. to become the biggest U.S. publicly traded chip company.
Talk of a split was rekindled earlier this year by activist investor Jana Partners LLC, which bought up stock in the company to make Qualcomm the hedge fund's biggest holding. Jana signed off on a strategic review announcement by the company in July, the first part of which resulted in a 15 percent employee reduction and a shakeup of the board.
On Friday, Qualcomm changed its proxy process to require that shareholders keep their stake for at least three years before nominating directors for the board, a move aimed at making it harder for short-term investors to influence management and strategy.
For other companies, the weight of all that scrutiny might seem like an existential crisis. For Qualcomm, it's pretty much the normal course of business, according to long-term holders like Morgan.
Long Fight
Mollenkopf's two predecessors -- founder Irwin Jacobs and his son, Paul -- both faced protracted fights to get their code-division multiple-access technology adopted worldwide, then fended off legal challenges by rivals who didn't want to pay Qualcomm for the right to use it. The company's current president, Derek Aberle, is head of the legal team that has won almost all of the disputes the company has faced.
"This is not the first time in their history that they've had regulatory hurdles -- everyone's taken a look," said Sid Parakh, a fund manager at Becker Capital Management, which owns Qualcomm shares. "The competitive concerns in the chip side have always been there. The names have just rotated."
Earlier this year, Qualcomm's revenue took a hit when Samsung switched its flagship Galaxy line to in-house chips. That broke up Qualcomm's almost complete dominance in the market for processor and modem combination chips running the fastest data links. Adding to the challenges, Apple Inc., which only uses Qualcomm's cheaper modems in combination with its own processors, has been grabbing share at the high end of the phone market from smaller companies that use more Qualcomm silicon. Mollenkopf, who worked his way up the chipmaking unit before being named CEO in 2014, has said a new model debuting in phones next year will make handsets based on his chips more attractive.
For Becker Capital's Parakh, the slide in the market value partially reflects a belief that Qualcomm's management will choose to keep the company together. It doesn't reflect the value of the businesses and $31 billion of cash it has on its books, he said.
Parakh's preference would be for the company to find some way to split while maintaining the close ties that allow research expenses to be shared -- something that Qualcomm is unlikely to be able to pull off, he said.
"It would be incredibly hard to do," he said.
Before it's here, it's on the Bloomberg Terminal.
LEARN MORE