Poland Demands Apology After EU's Schultz Likens Changes to Coup
by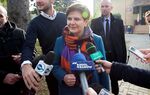 Polish Prime Minister Beata Szydlo, who took office a month ago, demanded that European Parliament President Martin Schulz apologize for comparing political shifts in the eastern European country to a "coup."
Speaking in an interview with Germany's Deutschlandfunk public radio, Schulz said "what is happening in Poland has the character of a coup."
The comments were "unjustified," Szydlo said at a news conference in Warsaw on Monday. "Something is wrong when the European Parliament president expresses his opinion in this way about a member state."
Schulz's comments come two days after thousands of people marched in an anti-government protest in Warsaw against what they said were constitutional breaches by the new administration and its ally, President Andrzej Duda. The government supporters staged a counter-rally on Sunday, which also drew thousands.
His comment "did not express a definitive judgment, but was an expression of concern on one of the founding principles of the rule of law in the EU, namely the division of powers with a democracy," Giacomo Fassina, his spokesman, said by a text message on Monday.
Since taking power in mid-November, the Law & Justice government has forced out the head of the country's anti-corruption agency, limited the opposition's oversight of secret services and outlined plans to overhaul public media, raising concerns about the system of checks and balances written into Poland's constitution.
Szydlo said the opposition was creating an "atmosphere of political conflict" and called for talks to discuss the way out of the "stalemate."
Before it's here, it's on the Bloomberg Terminal.
LEARN MORE