Ousted Cheniere CEO Says He Clashed With Icahn Over Growth
by , , and
Souki wanted to grow LNG export capacity too fast for board

Icahn, Cheniere's biggest investor, opposed CEO's plan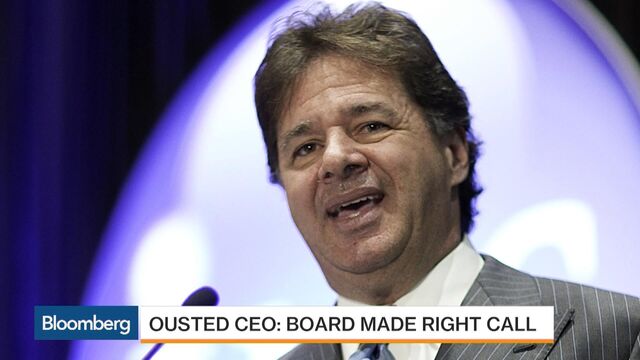 Charif Souki said he was ousted as chief executive officer of Cheniere Energy Inc. over his plan to speed the growth of liquefied natural gas projects, a strategy opposed by the company's largest investor, Carl Icahn.
Cheniere is on track to become the first U.S. company to export LNG from the lower 48 states from its Sabine Pass terminal in Louisiana. Souki said he wanted to double the terminal's export capacity over the next eight years, a strategy that Icahn, and ultimately the board of directors, disagreed with, according to an interview with Bloomberg Monday. Souki, who co-founded the company, promised to remain active in its affairs.
The rift between the two may have deepened after Souki's sale of $118 million in shares in Cheniere since January, which cut his stake by about a third, according to company filings. That prompted Icahn, who took an interest in Cheniere this past summer, to suggest Souki might be overly aggressive with building out the company's business to the possible detriment of shareholders.
The board "decided an entrepreneur was not the best person to run the company," Souki said. "They want to run it as a quasi utility until they see how the financial markets are going."
Interim CEO

Neal Shear, former head of Morgan Stanley's commodities division and a Cheniere board member since 2014, has taken over as interim CEO, Houston-based Cheniere said.
The board's decision may have come in a Dec. 8 meeting, when Cheniere's directors asked the CEO to excuse himself and then went into executive session for about 10 hours, Souki said.
"I knew something was up," he said.
Souki flew from Houston to his home in Aspen on Friday to wait for news. That came on Saturday, when company lawyers informed him that he was being terminated. From the standpoint of an investor who still owns 5 million shares, the former CEO said he agreed with the board's decision to replace him.
"A lot of the board members are old friends of mine," he said. "They tried to do the best for the company."
Souki said the board considered keeping him on until the Sabine Pass plant started processing LNG. In the end, it was thought that would be too awkward, he said.
Cheniere fell 2.8 percent to close at $40.14 in New York. The shares are down about 38 percent in the past year.
Dramatic Turnaround
Souki choreographed a dramatic turnaround for Cheniere, which a decade ago was building out LNG import terminals. Then came the shale revolution, unlocking new plays for natural gas in the U.S. and scuttling plans to import the fuel. A former investment banker adept at raising funds, Souki succeeded in retrofitting the Sabine Pass terminal in Louisiana for exports that are scheduled to begin in early 2016.
Souki's legacy will be that of a builder of a "great set of assets" that he'll have to leave for someone else to operate, according to William Frohnhoefer, an analyst at BTIG LLC in New York.
"His main role historically was a project developer as opposed to a day-to-day running the books type of operator," Frohnhoefer said in a phone interview.
As for Souki, he plans to spend the next few months on the ski slopes before jumping back into the world of business.
"Call me in March or April. I will certainly do something," Souki said.
Before it's here, it's on the Bloomberg Terminal.
LEARN MORE