Wild Markets Seen No Barrier This Time to Unstoppable Fed
by
MSCI All-Country World Index is falling for a sixth day

Traders are pricing in 78% chance of Wednesday liftoff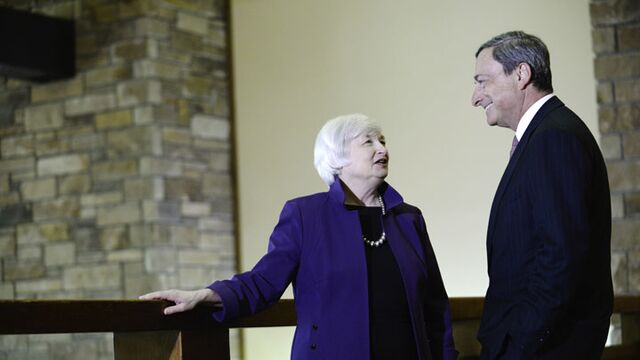 Once again, the Federal Reserve is about to make a historic interest-rate decision against a backdrop of rising equity volatility, tumbling commodity prices and jitters in credit markets. This time, investors expect policy makers to pull the trigger.
Janet Yellen has been preparing financial markets for a rates liftoff this week as evidence grows that the U.S. economy is strong enough to weather tighter monetary policy. Many market watchers were taken by surprise when the Fed held off at their September meeting, even in the wake of the first correction in the Standard & Poor's 500 Index in four years.
If Fed officials "don't do it this time, they'll look stupid," said Ken Peng, a strategist at Citigroup Inc. in Hong Kong. "The things that are causing the market to behave this way aren't going to be resolved if they hold off another month or two."
In the lead-up to the Dec. 16 decision, investors are contending with crude below $36 a barrel, stress in the U.S. junk-debt market and the longest streak of losses in global equities since August. While the financial turmoil spurred by China's yuan devaluation that month stayed the Fed's hand in September, policy makers have since signaled increasing determination to go ahead with the first rate increase since 2006.
The prospect of higher borrowing costs has helped erase $2.5 trillion from global equities since Dec. 1, and stock swings have widened. The Chicago Board Options Exchange Volatility Index, known as the VIX, has climbed more than 50 percent since the start of the month to 24.39, the highest level since Sept. 30. In the weeks preceding the September meeting, the VIX was in the process of retreating from 40.74, its highest in almost four years.
A gauge of global equities extended its biggest weekly decline since September on Monday, sliding 0.2 percent, and emerging-market shares fell for a ninth day. Energy and commodity producers continued their plunge. Measures of credit risk in Europe rose to the highest levels in about two months amid concern investors may face more losses after Third Avenue Management blocked investors from pulling their money out of a U.S. high-yield fund.
"I don't think the Fed will be overwhelmed by things like fund redemptions," said Kelvin Tay, regional chief investment officer at UBS Group AG's wealth management business in Singapore. "If they don't raise, it acts as an overhang in the market and that will affect business and consumer sentiment. Everybody is just going to hold back. They should actually raise and get it out of the way so that everybody can get on with life."
Traders are pricing in 78 percent odds the Fed will end the era of near-zero borrowing costs Wednesday, higher than 72 percent at the beginning of the month. Before the September decision, futures showed about a one-in-three chance of an increase. One potential hurdle for higher U.S. rates was cleared in the weekend as Chinese economic data for November came in better than economists projected.
Rates Path
Jeffrey Gundlach, whose $51.5 billion DoubleLine Total Return Bond Fund has outperformed 99 percent of peers over the past five years, has said the central bank is too set on raising rates amid signs of a fragile economy and a crumbling credit market.
Tomohisa Fujiki, head of interest-rate strategy for Japan at BNP Paribas SA in Tokyo, is already looking past the decision this week. With little inflation in sight, a cloudy global outlook and the weakest U.S. expansion in decades, there aren't many reasons to compel the Fed to move quickly or aggressively. Turmoil in markets may further moderate the central bank's trajectory, Fujiki said.
"The first rate hike is almost a done deal, but there's more concern for the second rate hike or the third rate hike -- if the Fed really can continue its rate-hike program in 2016," he said. "That's obviously what we have to watch."
Before it's here, it's on the Bloomberg Terminal.
LEARN MORE