Merkel Hailed by Party Looking to 2016 as Refugee Rebels Give In
by and
German chancellor wins backing for her refugee stance

Merkel pledges to curb refugee influx without `isolation'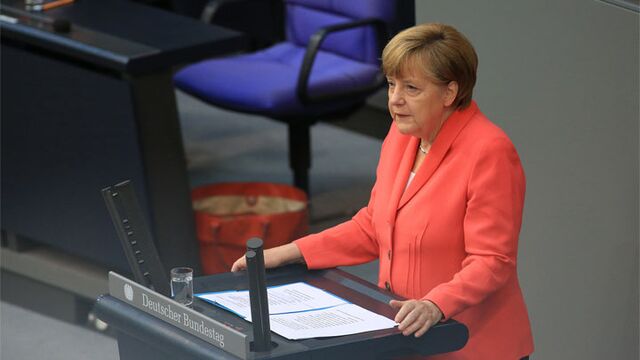 Chancellor Angela Merkel was cheered by her party after an uncharacteristically combative speech that urged Europe to unite in mastering its refugee crisis and sought to curb months of dispute over her open-door policy for Germany.
Merkel used her Christian Democratic Union's meeting on Monday to try to move forward, pledging to "noticeably reduce" the refugee influx, preserve passport-free travel in the European Union and urging Germans to embrace change as a source of strength. Lining up behind their party leader and Germany's chancellor of 10 years, delegates responded with cheers, whoops and almost 10 minutes of applause after Merkel finished.
After a year marked by terror attacks in Paris, a third bailout for Greece and a global climate accord, Merkel got some breathing space from her party as she seeks to craft a European solution to the refugee crisis in 2016 while facing a nationalist groundswell in key countries such as France and Poland.
"Nobody except Merkel would hold this kind of a speech in Europe today," Karl-Rudolf Korte, a political scientist at Essen-Duisburg University, said on the convention's sidelines. "Now her next challenge will be at the European level."
Often on the defensive since the summer as the refugee crisis and infighting in her governing coalition eroded her poll ratings, Merkel reaffirmed her policies and personal beliefs on the convention's first day, while acknowledging public concern that the influx of refugees, including many from Syria's civil war, is changing Germany too quickly.
"How would somebody think about us if they said 'They didn't believe in their strengths; they really didn't do everything to find a solution,"' Merkel said in her 70-minute speech. "My friends, the fight for a united European path forward is worth it. It's worth it to have a role in world. I'm deeply convinced of this."
Wolfgang Bosbach, a CDU lawmaker who has questioned whether Germany can cope with the refugee influx, called it a "remarkable, persuasive speech that grabbed delegates." Merkel "has also taken a step toward her critics," he said in an interview.
Merkel said she's committed to forging a united European response and gaining Turkey's cooperation in curbing the refugee flow and spreading resettlement more broadly across the continent. Seeking to convey a positive vision for Germany, she said she wants her country 25 years from now to be "open, receptive and tolerant with a strong national identity."
Merkel's Base
As she seeks to keep her party in line, Merkel's policies "are much more supported by the opposition than they are by her base," Richard Haass, president of the Council on Foreign Relations, said on Bloomberg Television on Monday. "But she knew she was taking this risk. And it's the rare political leader who does things out of principle even though they know it's risky."
CDU members later Monday overwhelmingly approved a motion by the party leadership that backs Merkel's refugee policy. Two of the 1,001 delegates voted against the resolution and a few abstained, convention chairman Peter Hintze said.
Merkel's message pointed to the challenges ahead, including her goal of forging a united European response and Turkey's cooperation in curbing the refugee flow and spreading resettlement more broadly across the continent. Already, "2015 was an unbelievable year, difficult to imagine," she said.
Merkel's support for reducing the number of asylum seekers arriving in Germany after a record inflow in 2015 confirms a concession that's been building for weeks as she sought support from Turkey and backed diplomacy to try to end Syria's civil war.
"It's part of the identity of our country to do the most that we can," Merkel said. "Isolation is not a sensible option in the 21st century."
'Lost Control'
Several critics took the floor after Merkel's speech, including some who said they wouldn't support the convention's main motion backing her refugee policy.
Eugen Abler, a CDU community leader from the southwestern state of Baden-Wuerttemberg, rejected Merkel's policy as too soft. He said refugees don't want to integrate, raise crime rates don't accept western democracies if they're Muslims.
"My worry is that the state has lost control," Abler told delegates. "Many documents aren't being processed, thousands aren't registered and people are here illegally in the country. We're losing track."
Before it's here, it's on the Bloomberg Terminal.
LEARN MORE