Meanwhile in Canada, Red Carpet Laid Out for Syrian Refugees
by and
Trudeau greets first of 25,000 with hugs and winter coats

As Trump calls for Muslim ban, Canadian firms promise millions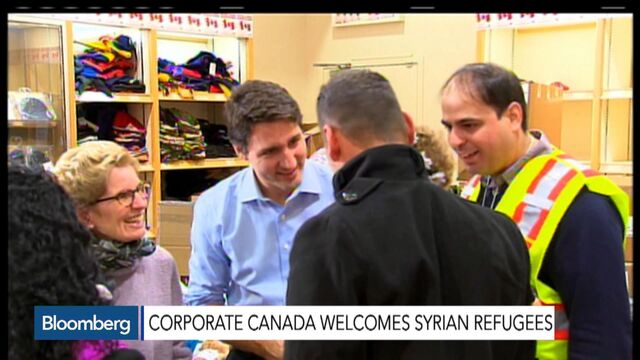 Jim Estill, who made his fortune as a tech entrepreneur and director of Research In Motion Ltd. during its glory years, has launched a new startup in his hometown of Guelph, Ontario.
Furnished with an eight-point operating plan, Estill is leading a huge community effort to settle about 50 Syrian refugee families, footing a personal bill of about C$1.5 million ($1.1 million) for food, housing and clothing. It's part of a broad national effort embraced by all political parties, the provinces, religious groups and Canadian businesses, which were asked by the government Monday to contribute C$50 million to the cause.

"This is absolutely not a religious thing and not a political thing," Estill said, listing preparations that include storing an overflow of donated furniture and cutlery at the Salvation Army, English classes, dental visits and access to an Arabic-speaking psychiatrist. "It's a Canadian thing."
About 125 kilometers (80 miles) to the south, across the world's longest border, Americans are struggling to reconcile a celebrated immigrant history with fears refugees from the Middle East will steal jobs, drain public services or, worse yet, turn out to be terrorists. Donald Trump, the Republican presidential candidate, has issued a call to ban Muslims from entering the U.S. altogether and governors of more than 30 states, including Texas, Alabama, Arizona, Illinois and New Hampshire, are opposed to accepting the victims of a brutal civil war in Syria that has displaced more than four million people.
In Canada, there are no such qualms. The new prime minister, Justin Trudeau, has personally helped fit Syrian children into puffy winter jackets and major corporations are donating goods, services and cash, including a C$5 million contribution to resettlement programs last week by Canadian National Railway Co., the second-largest railroad in North America.
Difficult Situation
"We get to show the world how to open our hearts and welcome in people who are fleeing extraordinarily difficult situations," Trudeau said late Thursday night as he and Ontario Premier Kathleen Wynne greeted the first chartered flight of refugees at Toronto's Pearson airport. 
His government has promised to bring in 25,000 Syrians before the end of February, more than twice the target of the Obama administration. Former Prime Minister Stephen Harper, who was ousted in the October federal election, was preparing to allow in 10,000 Syrian refugees. About 65 percent of Canadians support the Liberal's refugee policy, according to a November poll by Nanos Research.
Perrin Beatty, chief executive officer of the Canadian Chamber of Commerce and a former member of parliament, organized a meeting Monday with 60 company executives on the 54th floor of the Toronto-Dominion Bank's headquarters in Toronto. In addition to cash, a number of businesses stepped forward with "in kind donations" TD Vice Chairman Frank McKenna said, including: mobile phones from Wind Mobile; $180,000 in furniture from Ikea Canada, free accounting from KPMG and gift cards from Dollarama Inc.
In 1979, Beatty was a rookie cabinet minister in a Conservative government that evacuated 50,000 Vietnamese refugees -- the so-called boat people -- to Canada. He is struck by their contribution to the country and sees the new influx of Syrians as no different than earlier settlers who fled persecution and other disasters, including his own Irish forebears in the early 1800s.
Grateful People
A former defense minister, Beatty said any security anxieties about the Syrian refugees are misplaced. "Your average planeload of refugees is far better vetted than the average planeload of tourists," he said. "What you're getting is enormously grateful people who fled from the most terrible conditions of oppression and war. These are people who want to make a new life and contribute."
McKenna, a former Canadian ambassador to Washington, said Canada is free of the political sensitivities surrounding newcomers to the U.S. "The role of immigrants in building the countries, that's the same. But in the United States they have a different recent history, quite frankly, starting with 9/11."
Estill, now CEO of appliance maker Danby Products Ltd., said he's been inspired to help immigrants in part by the story of his fellow Guelph resident Frank Hasenfratz, the billionaire founder of Linamar Corp., Canada's second-biggest auto parts manufacturer and the city's biggest employer.
Hasenfratz, who fled Hungary after its failed 1956 anti-Soviet uprising, arrived penniless in Canada as part of a 1957 airlift of refugees. He was given a visa and five dollars by immigration officials in Quebec City. That was enough to provide a daily bottle of milk and loaf of bread as he got his life back on track, Hasenfratz said in a Bloomberg interview last year.
Boat People 
Canadians take pride in the waves of refugees they've taken in since the Second World War (the record was more checkered beforehand), including the 37,000 Hungarians in 1957; more than 7,000 Ismaili Muslims evicted from Idi Amin's Uganda in 1972 and the boat people in 1979. Canada's positive record of diversity is often invoked when its leaders visit other nations and has become a major component of the country's self-identity.
Today's Syrian refugees will follow a familiar path, Estill said. "There are many studies that immigrants tend to be more entrepreneurial," he said. "We are just trying to get people on their own feet."
He describes his own efforts in Guelph in terms of a business, replete with a director of housing and a system to assess progress on a bi-weekly basis, he said. More than 200 volunteers, community organizations, and mentor families are lined up. Some are on board simply to help new arrivals learn local bus routes or obtain a library card so they can access the Internet, he said. Muslim, Jewish and Catholic groups have all been involved since the start.
In addition to housing, language and health services, and help getting kids into school, Estill's group has secured access to about 300 job openings -- from factory and trade work to white-collar occupations such as accounting, he said.
As for Trump's views, Estill said he has little patience for people playing politics with so much hardship to address. "It's just troubling that someone with as much influence as Trump would be mongering hate," he said.
"I don't believe in hate, and I don't believe hate ever solves anything," he said. "These are people. That's what they are."
(
Corrects to show C$50 million donation is a target in the second paragraph.
)
Before it's here, it's on the Bloomberg Terminal.
LEARN MORE