Newell Turns Franklin's Worthless Award Into $133 Million
By and
Jarden had handed out 1.8 million restricted-stock grant

Change-in-control agreement calls for vesting of shares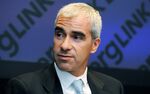 Jarden Corp. Executive Chairman Martin Franklin stands to take home $133 million from the sale of his company to Newell Rubbermaid Inc. Most of that is thanks to an equity award Jarden said was worthless.
Franklin, 51, was granted 1.8 million restricted shares in 2014. Full vesting of the award, which makes up 80 percent of Franklin's package, was deemed "improbable" because the underlying performance criteria were considered unlikely to be achieved, the board's compensation committee wrote in a March 30 preliminary proxy filing. It was valued at zero in the company's summary compensation table.
Franklin's employment agreement calls for full vesting of all outstanding equity awards if his contract isn't renewed following a change-in-control of his company, regardless of whether performance criteria for the awards were met. He'll join the combined company's board as a director and will no longer serve as executive chairman. Michael B. Polk, Newell Rubbermaid's chief executive officer, and Michael T. Cowhig, its nonexecutive chairman, will retain their roles at the new company.
His unvested equity awards and cash severance are valued at $133 million at the implied $60.03 offer price, according to data compiled by Bloomberg from company filings.
Liz Cohen, a spokeswoman for Jarden at Weber Shandwick, said the company declined to comment beyond the filings.
Creating Giant
Newell Rubbermaid agreed to buy Jarden for about $15.4 billion, creating a consumer-products giant with a sprawling portfolio of brands. When the merger is completed, Newell stockholders will own 55 percent of the combined company. It adds to Newell's existing stable of household products, which includes Graco strollers, Sharpie pens, Rubbermaid and many others.
The transaction caps a 14-year run for Franklin, who used acquisitions to build the company's vast array of products. Jarden has been described as a publicly traded private-equity firm because of its penchant for buying brands and improving them. It has acquired about 30 companies since its founding in 2001, with the latest coming in October, when it agreed to pay about $1.5 billion for Visant Holding Corp., which owns the school-memorabilia maker Jostens.
Franklin is the fourth-highest compensated person on the Bloomberg Pay Index, which tracks the 200 highest-paid U.S. executives. Jarden disclosed compensation of $22.4 million for him in 2014, excluding the award. The package was valued at $113.3 million in the index, including the award. The index values equity grants at a company's fiscal year-end.
Nick Woodman, the billionaire founder of GoPro Inc., is the highest-paid executive on the ranking. He was awarded $287.2 million in 2014, mostly in restricted stock.