Photographer: Tomohiro Ohsumi/Bloomberg
Japan's Corporate Sentiment Holds Up With Tankan Index Unchanged
by
Capital investment plans also stay strong in December

Confidence outlook weaker among large and small companies
Confidence in Japan's economy among large manufacturers unexpectedly held up in the past few months, suggesting that record corporate profits are compensating for uncertainty about the effects of an expected U.S. rate increase and slowdown in China.
The Tankan index of confidence among big manufacturers was unchanged at 12 in December, the Bank of Japan said Monday, slightly better than the median estimate of 11 in a Bloomberg survey. The index is forecast to fall to seven in March. A positive number means there are more optimists than pessimists among manufacturers.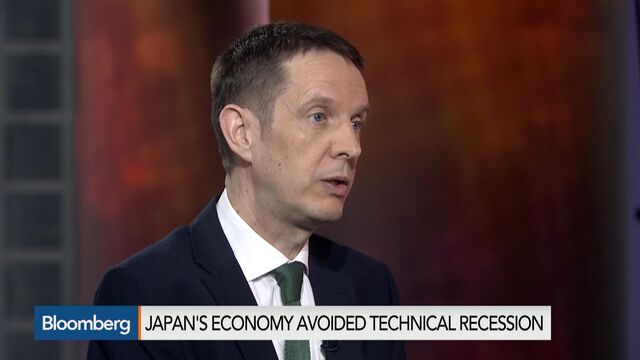 The data are the latest in a string of recent optimistic reports on Japan's economic growth and capital spending, supporting a view that additional monetary stimulus won't be imminent. Bank of Japan Governor Haruhiko Kuroda is counting on companies to boost investment and wages to stimulate the economy as the central bank's main price gauge has been falling since August.
"The Tankan survey showed corporate confidence is solid. The capital spending figure also confirmed companies maintain a bullish stance on their spending plans," Yasuhiro Takahashi, an economist at Nomura Securities Co. in Tokyo, said after the data was released. "The results also support the case for no additional easing for the time being."
The question is whether the stronger sentiment will spur companies to expand capital investment and raise wages, both of which they've been slow to do even amid record profits and strong stock market gains. Economists say companies are waiting to see the effects of the anticipated Fed rate increase and the slowdown in China, Japan's largest trading partner.
Deteriorating outlook

"The deterioration, especially in manufacturers' outlook, is a bit concerning," said Izumi Devalier, an economist at HSBC Holdings, speaking on Bloomberg Television after the data was released. "That reflects concerns over the global economic outlook, particularly in China and other emerging Asian markets." 
The Federal Open Market Committee will hold its last meeting of the year Tuesday and Wednesday and is widely expected to raise the U.S. benchmark federal funds rate, which has been held near zero since late 2008.
Overseas sales are a bright spot for Japanese companies, compensating for lackluster demand at home. Large manufacturers forecast that domestic sales would drop 1.8 percent this fiscal year after a 0.6 percent decline last year. Exports will climb 3.4 percent after rising 5.9 percent in 2014.
Toyota Motor Corp earned an unprecedented 827.4 billion yen in the three months ended in September, more than twice what General Motors Co. and Ford Motor Co. posted combined. Nissan Motor Co. raised its full-year profits forecast last month as it reaps income from abroad, according to data compiled by Bloomberg.
A weak yen helps boost profits overseas for Japanese companies when earnings are repatriated. Large manufacturers based their plans on an assumption that the yen will average 119.40 per dollar in the year after weakening 30 percent since Abe took office in December 2012. That forecast is the weakest in more than a decade.
The yen traded at 120.93 as of 9:40 a.m. in Tokyo. JPMorgan Chase & Co and HSBC Holdings Plc forecast that a yen of about 115 could prompt the BOJ to bolster stimulus as that would hurt corporate profits.
Before it's here, it's on the Bloomberg Terminal.
LEARN MORE