Hedge Funds Boost Bearish Oil Bets to Record as OPEC Opens Taps
by
Speculators raise short postions 5.8% in week to Dec. 8: CFTC

WTI crude closed at six-year lows the past five days on Nymex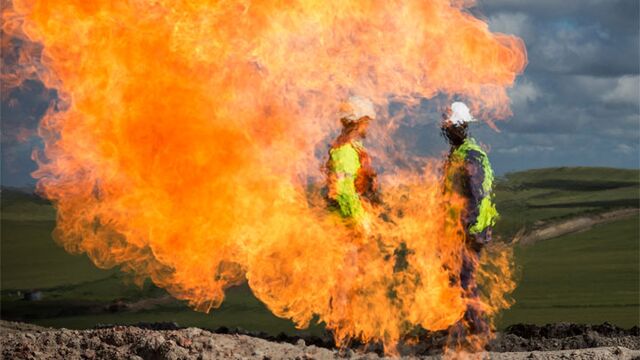 Speculators increased bets on falling U.S. oil prices to an all-time high as OPEC essentially lifted the lid on its crude production.
The global oil surplus will last at least until late 2016 as the Organization of Petroleum Exporting Countries shows "renewed determination" to maximize output, the International Energy Agency said on Dec. 11. OPEC has set aside the daily output target of 30 million barrels a day that it had breached for 18 straight months.

"Market sentiment has turned decisively bearish," said Mike Wittner, head of oil-market research in New York at Societe Generale SA. "We'll need a strongly bullish catalyst to change the tone before prices find support."
Money managers' short position in West Texas Intermediate crude rose 5.8 percent in the week ended Dec. 8, data from the U.S. Commodity Futures Trading Commission show. Net longs slipped to a five-year low.
Rising inventories in 2016 will be "weighing on the market," the IEA said in its monthly report. OPEC's policy is triggering the steepest drop in non-OPEC supply since 1992, and world inventories will likely swell further once Iran restores exports with the completion of a deal removing sanctions, the IEA said. The Persian Gulf nation's return will probably help swell stockpiles by an "impressive" 300 million barrels, the Paris-based agency said.
Crude Slides
WTI tumbled 10 percent to $37.51 a barrel in the report week on the New York Mercantile Exchange. The U.S. benchmark slumped below $35 a barrel Monday for the first time since February 2009, sinking 95 cents to $34.53 a barrel. Futures rebounded and settled at $36.31.
Saudi Arabia, OPEC's most powerful member, has steered the group's strategy to pressure rivals, including shale producers in the U.S., with lower prices. The kingdom boosted output to a record 10.48 million barrels a day in June, according to the IEA, and pumped 10.33 million daily last month, data compiled by Bloomberg show.
"The Saudis have decided to just sit back and watch," said Michael Lynch, president of Strategic Energy & Economic Research in Winchester, Massachusetts. "The smaller players like Venezuela and Iran want to do something, but can't come up with a credible plan on their own."
The Saudis said that output cuts won't work unless big producers outside OPEC, including Russia and Mexico, participate. Saudi Arabia is willing to cooperate with anyone to rebalance the market, Oil Minister Ali al-Naimi told reporters on Dec. 4, the day OPEC met in Vienna.
'Rebalancing Story'
"People are questioning the whole rebalancing story," Wittner said. "There has to be a shakeout of producers. It's a much messier process now than when Ali al-Naimi made a phone call and production changed."
Speculators' short positions in WTI rose by 9,935 contracts to 181,849 futures and options, the most in records dating back to 2006, CFTC data show. Longs dropped by 354. The net-long position slipped by 10,289 to 80,474, the lowest since August 2010.
Trading in Brent, the North Sea crude used as a global price benchmark, showed a different trend. Speculators increased their bullish stance in the week to Dec. 8, raising net-long positions by 12,312 contracts to 182,708 lots, according to data published Monday by the ICE Futures Europe exchange.
In other markets, net bearish wagers on U.S. ultra low sulfur diesel decreased 4 percent to 39,915 contracts. Diesel futures slipped 8 percent in the period. Net bullish bets on Nymex gasoline declined 34 percent to 16,666 contracts as futures dropped 12 percent. 
Oil explorers are again cutting budgets to conserve cash as the drop in crude shows no signs of abating. Chevron Corp. said last week that it will reduce capital spending by 24 percent in 2016, while ConocoPhillips said it will cut by 25 percent. Spending curbs will slow output, helping set up conditions for a rebound, said Dan Heckman, senior fixed-income strategist in Kansas City, Missouri, at U.S. Bank Wealth Management, which oversees about $126 billion.
"We're in a bottoming process," Heckman said. "Chevron has announced major cuts and other companies will follow. The pain is getting to such a point, and more importantly duration, that you'll see production cuts that will help rebalance the market next year."
Before it's here, it's on the Bloomberg Terminal.
LEARN MORE