Gross Says High Yield Becoming Competitive Compared With Stocks
by
`Illiquidity discount' creating bargains, Janus manager says

Recommends closed-end funds from ex-employer Pimco and others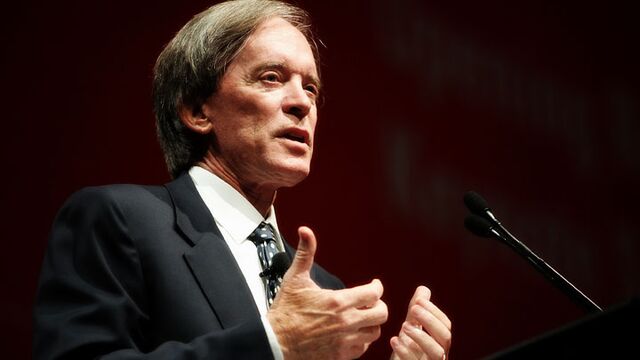 Bill Gross, manager of $1.3 billion Janus Global Unconstrained Bond Fund, said a selloff in high-yield bonds is making the debt competitive relative to stocks.
Gross, speaking in an interview with CNBC on Monday, said he would prefer junk bonds with yields of 6 percent to 8 percent over stocks yielding about 2 percent.
"This is the perfect time in terms of an illiquidity discount for what are known as closed-end funds," said Gross, whose office is in Newport Beach, California. "It's like the pelicans in Newport Beach. They're just diving down and picking out those fish. It's just loaded with bargains."
Exchange-traded funds including the SPDR Barclays High Yield Bond ETF and iShares iBoxx $ High Yield Corporate Bond ETF fell Monday after at least three hedge and mutual funds focused on distressed and junk debt closed or gated withdrawals in recent days. Lucidus Capital Partners, founded in 2009 by former employees of Bruce Kovner's Caxton Associates, said Monday it had liquidated its portfolio and plans to return the $900 million it has under management to investors next month. Funds run by Third Avenue Management and Stone Lion Capital Partners have stopped returning cash to investors, after clients sought to pull too much money.
"We're seeing a moment over the past week or so and there's no doubt that mutual funds and ETFs are in some cases strained for liquidity," Gross said. "Closing the doors of Third Avenue, that scares investors in terms of, you know, neither getting into something else or getting out on what they own now."
He said investors might want to consider such closed-end funds as Reaves Utility Income Fund, Duff & Phelps Global Utility Income Fund Inc. and Pimco Dynamic Credit Income Fund, which trade at significant discounts to net assets. Gross was ousted from Pacific Management Investment Co., which runs the Pimco fund, last year.
Before it's here, it's on the Bloomberg Terminal.
LEARN MORE