Draghi Keeps Faith of Scots Seeing Stimulus Setback as a Hiccup
by
Standard Life sees Spain-Germany spread at 30 basis points

Slide in oil prices, stronger euro may help stifle inflation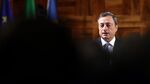 There's an old mantra in finance that it's not wise to fight the central bank, and money managers in Edinburgh are sticking by it.
When European Central Bank President Mario Draghi triggered a selloff in euro-region bonds this month by underwhelming investors with his latest measures to boost the economy, Standard Life Investments added to holdings of higher-yielding government debt such as Italy. Kames Capital also remains "pretty positive" on European bonds, said Sandra Holdsworth, an investment manager at the firm.
The two companies together oversee more than $450 billion in a city that was at the forefront of pioneering investment funds centuries ago and where modern-day managers always talk about keeping their focus on the longer term. When it comes to the bond market, the view is that Draghi will ultimately persuade dissenters within the ECB Governing Council that more stimulus is the only way to foster growth.
"Draghi is aware that more is needed and hasn't been able to deliver it because there's some resistance," said Jack Kelly, an investment director at Standard Life, which manages the equivalent of $380 billion. "We are likely to see a continuation of surprises on the downside, forecasts from the ECB themselves will be lower and all of those should lead to a greater body of evidence for Draghi to convince the other members of the board."

The extra yield, or spread, that investors get for holding Italian 10-year bonds instead of German bunds widened by the most in a month after Draghi unveiled his last package of stimulus measures on Dec. 3.
He cut the ECB deposit rate further below zero and extended the bond-buying program known as quantitative easing by at least six months. But it wasn't enough for the market. Expectations for more had built up after Draghi said Nov. 20 that the institution will do what's necessary to rapidly accelerate inflation.
The policy measures were probably appropriate and "where the market found it difficult was that the rhetoric a bit before the meeting seemed quite strong," said Holdsworth at Kames, which runs about $85 billion mainly from Edinburgh.
With oil prices dipping below $40 to the lowest in almost seven years, Draghi may not have to wait long before he has ammunition to justify another leg of stimulus.
The five-year, five-year forward inflation swap rate, a rolling gauge of inflation expectations that Draghi cited in the past when advocating monetary stimulus, slumped last week to the weakest in October amid collapsing commodity prices. The euro has jumped against 15 of its 16 major partners since Dec. 2, adding another muffler to inflation.

As a result, Standard Life is positioning for better performance by the euro region's peripheral countries. In an interview in Standard Life's early 19th-century headquarters, Kelly said he sees the extra yield on Italian and Spanish bonds over bunds narrowing to about 30 basis points by the middle of 2016 from about 100 basis points on Monday.
Holdsworth sees that spread narrowing to between 50 basis points and 75 basis points next year. Standard Life also favors the euro region over the U.S. and U.K., where central bank officials are debating when to raise interest rates, Kelly said.
The ECB is "a pretty evidence-based institution and if come their next next set of staff forecasts, they revise down inflation or length of time it takes to reach their target, I suspect they will move again," said Holdsworth. "Perhaps Draghi didn't go as far as he wanted to but they've left the door open for more should it be required."
Before it's here, it's on the Bloomberg Terminal.
LEARN MORE