Photographer: KAREN BLEIER/AFP/Getty Images
Charting the Markets: Return of the Rand
China gets a bump, oil heads lower, and the rand rebounds. Oh, and it's Fed week, too...
by
Global stocks are little-changed ahead of this week's two-day Federal Reserve meeting, which may conclude with the first rise in U.S. interest rates since 2006. Amidst the biggest drop in Asian equities in two months, China's Shanghai Composite Index jumped 2.5 percent, after data over the weekend showed industrial output, retail sales and fixed-asset investment all beat economists' forecasts. Those are signals the world's second-biggest economy is stabilizing. European stocks rose for the first day in five.

There's been some respite for emerging market stocks, which earlier sank for the ninth consecutive day, the longest losing stretch since June. They have been battered by the prospect of higher U.S. interest rates, a slowing Chinese economy and slumping commodities. The MSCI Emerging Markets Index has slumped 11 percent since reaching a two-month high on Oct.23. Neither developing nor developed markets were spared in Friday's sell-off. The MSCI All-Country World Index registered its biggest drop since Sept.28. One trillion dollars was wiped off the value of global equities.

Crude fell for a seventh day, the worst run since July 2014. In that period oil has slumped 14 percent as Iran pledges to boost crude exports despite the global glut. Hedge funds and other large speculators have increased bets on falling oil prices to an all-time high after OPEC essentially scrapped production quotas to defend market share. The International Energy Agency warned on Friday the glut will persist at least until late 2016. Crude has slumped 37 percent in the past 12 months.

South Africa's rand surged as much as 6 percent after President Jacob Zuma named his second finance minister in four days. Wednesday's sacking of Nhlanhla Nene and his replacement by little-known lawmaker David van Rooyen provoked a sell-off in South African assets and outrage from business groups and Zuma's own party, the African National Congress. Pravin Gordhan has returned to the job he held from 2009 to 2014, a period when he steered the economy though its first recession in 17 years, while fending off pressure from labor unions to increase spending. The nation's benchmark government bond rose for the first time since Nov.24 after the yield rose to a seven-year high on Friday.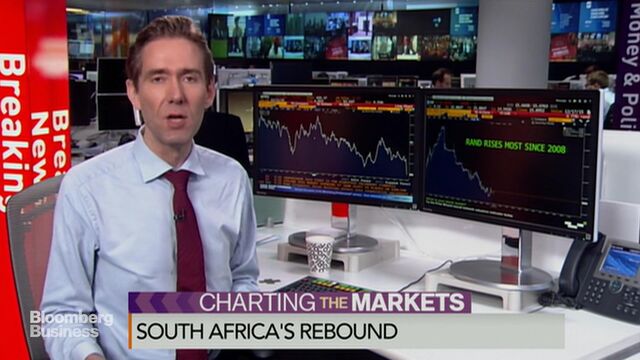 Mark Barton is a presenter on Bloomberg TV. Follow him on Twitter @markbartonTV
Before it's here, it's on the Bloomberg Terminal.
LEARN MORE