BOE's Shafik Says Must See Faster Pay Growth Before Raising Rate
by and
Says markets may have mispriced path of rate increases

BOE Deputy Governor Shafik speaks on monetary policy in London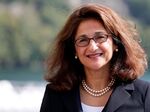 Wage pressures aren't yet strong enough to justify an interest-rate increase, though markets have misjudged the delay until the first move, according to Bank of England Deputy Governor for Markets and Banking Minouche Shafik.
"I will wait until I am convinced that wage growth will be sustained at a level consistent with inflation returning to target before voting for an increase. In that sense, I will proceed with caution," Shafik said on Monday in a speech in London. 
"But once I am convinced, absent further shocks, I can see bank rate rising more quickly than the path implied by the market curve at the time of the last Inflation Report," she added.
The Monetary Policy Committee has put the labor market at the center of policy as it considers the first rate increase in more than eight years. Shafik -- who has consistently voted with the majority of the nine-member panel to keep the key rate at a record-low 0.5 percent -- said that while the U.K. economy is returning to normal, officials "cannot blithely assume" it will behave in the same way as before the financial crisis.
As the unemployment rate declines, officials have signaled the next move in rates will be up. While economists predict the first full quarter-point increase will come in the second or third quarter of next year, investors are betting it won't happen until 2017.
Downside Risk
Market pricing for the first increase in March 2017 and a rate of 1.25 percent by the end of 2018 may reflect the fact that investors are accounting for the prospect of downside risks materializing, Shafik said.
"This would be consistent with the risks to the world economy that have come to the fore over the past year as emerging economies grapple with the twin challenges of transitioning to slower potential output growth and lower commodity prices," she said. "Although the direct trade links between emerging economies and the U.K. are relatively small, the indirect effects of a more dramatic emerging-market slowdown through confidence and financial channels could be significant."
In their December policy statement, officials weighed "robust growth" in spending against weak overseas demand and said feeble inflation gives them room to maintain emergency settings for now. Falling oil prices, subdued wages and an appreciation of the pound have damped the outlook, they said.
Sterling Pressure
The strength of the currency is putting "significant downward pressure on inflation," Shafik said, and will probably continue to do so "for several years to come as lower import costs pass through the supply chain."
The pound has gained almost 10 percent against the euro, the currency of Britain's biggest trading partner, in the past 12 months.
Inflation held below zero for a second month in October, and November's data on Tuesday is forecast to show little improvement. A report due on Wednesday will probably show that basic earnings growth cooled to 2.3 percent in the three months through October from 2.5 percent a month earlier. That would mark the weakest reading since the first quarter. The Office for National Statistics data may also show the unemployment rate held at 5.3 percent, matching September's reading which was the lowest in more than seven years.
Leveled Off
Shafik said the rate of pay growth "seems to have leveled off again in the most recent data," though the pause may yet "prove to be more noise than signal."
"My view is that one is looking for wage growth between 2-3 percent above productivity," she said. "I don't necessarily want to see wage growth higher than that and I do think we need to look through these external shocks that will pass through."
"I wouldn't want to see wage growth at 4-5 percent in order to make up for the fact that we're experiencing exceptionally low oil prices," she said.
Officials need to retain flexibility when setting policy, she said. While historically the U.K.'s benchmark rate has been about 5 percent, the BOE has "signaled clearly" rates won't go back to that level for a long time, she said.
"When the time does come to raise bank rate, it will be important to retain the flexibility to change course if needs be, either by tightening policy more quickly than originally envisaged or by being prepared to loosen again," Shafik said. The BOE could use bank rate or quantitative easing "were it required to respond to unforeseen events," she said.
Before it's here, it's on the Bloomberg Terminal.
LEARN MORE