Billionaire Triguboff Likes Aussie Property as Stocks `Terrible'
by and
Meriton founder backs off talks to sell Australian Homebuilder

Australian homebuyers will step in if prices drop, he says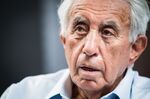 Billionaire Harry Triguboff, who founded Australia's biggest home builder, sees property as among the few attractive investments in the nation amid rising rents and a "terrible" stock market.
Triguboff said in an interview his optimism on real estate is such that he backed out of talks to sell his closely held Meriton Pty to a Chinese firm. Interest rates at a five-decade low will continue to support demand for homes, said Triguboff, 82.
"The problem is I'm really not keen on selling. I never was, they came to talk," he said referring to Chinese buyer he declined to identify. "You've to open your eyes, go to restaurants, it's all full, where ever you want to get in, it's all full. So the country is doing so well, what's the point of selling?"
Triguboff is undaunted by waning demand from Chinese buyers and last month's price declines in Sydney. Credit Suisse Group AG said Nov. 3 that appetite for global property among Chinese -- which have helped drive Australian prices higher -- could drop by 30 percent. Yet Triguboff said any decline in prices would probably prompt Australian buyers to step up purchases.
Volatile Stocks
"One of two things will happen. The prices will remain the same -- nobody is talking of them going up," Triguboff said. "If they remain the same, the Chinese might stay here. If they go down then the Australians will come in and buy."
Global stock markets have been volatile this year amid signs of slowing growth in China and expectations that the Federal Reserve in the U.S. will embark on interest rate increases. Australia's S&P/ASX 200 index has declined 8.9 percent this year, as the MSCI World Index has fallen 4.3 percent and the Standard & Poor's 500 Index has retreated 2.3 percent.
Foreign investors, primarily Chinese, made up 40 percent of Meriton's sales in 2015, the best sales year year ever, according to James Sialepis, the company's national sales director. That was up from 30 percent a year earlier, he said. Meriton, which is building more than 10,000 apartments in Sydney and Queensland state, has seen Chinese demand drop only in the "past week or two," Sialepis said. The company expects to sell 2,000 homes next year.
"Selling doesn't occur to me as a problem," Triguboff said. "Prices may go up or may go down 5 percent, 10 percent. I'm not interested. We are selling apartments for A$1 million now, which I used to sell 10 years ago for half."
Triguboff, who was born in Dalian, China, and grew up in the Russian community of Tianjin, has an estimated fortune of $6.6 billion, according to the Bloomberg Billionaires Index.
Before it's here, it's on the Bloomberg Terminal.
LEARN MORE