Banks in South Africa Surge as Zuma Names Gordhan Minister
By
Index rises most in nine years `after much-needed u-turn'

Insurers advance as Van Rooyen replaced after 4 days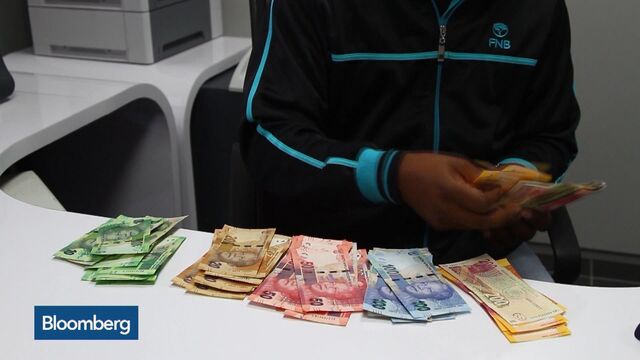 South Africa's banking index rose the most in nine years after President Jacob Zuma appointed Pravin Gordhan as finance minister, reversing a decision to hand the role to a little-known lawmaker after he fired Nhlanhla Nene last week.
The FTSE/JSE Africa Banks Index climbed 8.5 percent, the most since June 2006, recovering some of the 19 percent two-day plunge following Zuma's shock Dec. 9 decision to replace Nene with David van Rooyen. Barclays Africa Group Ltd. gained 8.9 percent to 139.21 rand while FirstRand Ltd. surged 13 percent to 40.20 rand. Life assurers also rose, with the index climbing 4.6 percent as Sanlam Ltd. increased 6 percent to 49.83 rand.
"Markets have reacted strongly to political machinations, resulting in the much needed u-turn that has led to the hasty appointment of a credible finance minister," Lesiba Mothata, chief economist at asset manager Investment Solutions in Johannesburg, said in an e-mailed statement. Gordhan, 66, was finance minister from 2009 until May 2014.
Last week's abrupt removal of Nene wiped 155 billion rand ($10 billion) off the value of the banks index, while the rand fell to record lows against the dollar and the pound. The plunge in bank stocks lowered the lenders' price-to-earnings multiples to an average of 9.69 times, compared with 39 times for the broader Johannesburg benchmark index, according to data compiled by Bloomberg. That may make bank stocks attractive for some investors, said Patrice Rassou, head of equities for Sanlam Investment Management.
"Banks have entered buy territory," said Rassou, whose company oversees about $30 billion in assets from Cape Town. "The challenges in our economy remain, but our banks are well capitalized and well managed. Things will get tougher, but I don't think it's as 'all fall down' as the market seemed to indicate on Friday."

By the end of last week, forward-rate agreements showed investors expected the South African central bank would increase rates by 250 basis points over the next 18 months. With the appointment of Gordhan, that effect has mitigated and the data now indicate a 150 basis-points increase, according to Adrian Cloete, a banking analyst at PSG Wealth. 
"The forward-rate agreement market is still expecting 50 basis points more in hikes than it was a month ago," he said. This will mean "a slightly higher bad-debt charge" for banks next year. "This would be largely offset by the positive endowment effect from banks' earning more interest income on their capital," he said.
The country's banking association said Gordhan's return was "very welcome" and urged him to act to rebuild confidence among investors. It could take more than just this step to repair the harm done to perceptions of how South Africa's economy is managed, said Liam Hechter, a banks analyst at Anchor Capital.
"The events of the last few days have certainly done damage that will take a while to recover from," said Johannesburg-based Hechter. "The market is looking for clarity and policy certainty and should we see that, we believe the market will once again look for exposure to SA Inc., resulting in the out-of-favor banking and retail stocks becoming in favor again."