'Star Wars' to Open in 4,100-Plus Theaters, Record for December
By and
3,300 will be 3-D and 392 will show on Imax's larger screens

Exhibitors continue to add showings, boosting potential sales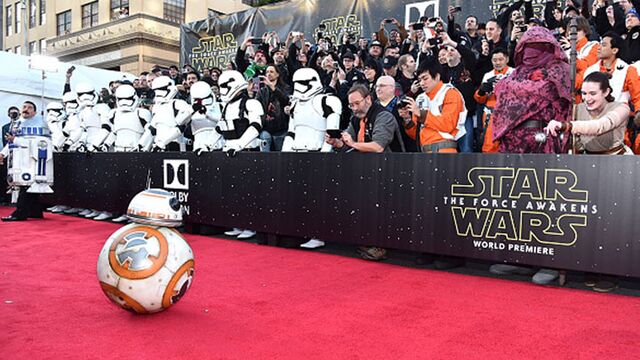 Walt Disney Co.'s "Star Wars: The Force Awakens" will debut in more than 4,100 theaters this weekend, a record number for a December opening, according to the company's estimates.
The film, the first from Disney in the series, will be in 3,300 3-D locations and on 392 larger Imax Corp. screens, the most ever for any film in that format, according to a statement Monday. The plans will be completed Tuesday, Disney said.
"Star Wars: The Force Awakens" opens on Thursday evening, following marathon showings of earlier films in 135 locations. BoxOffice.com is forecasting $223 million in U.S. and Canadian ticket sales in the first weekend, which would be a record. The current mark is held by "Jurassic World" from Universal Pictures, which brought in $208.8 million in its debut weekend in June.
The timing of the release is one obstacle to "The Force Awakens" breaking records. December releases typically draw fewer moviegoers than summer weekends, when kids are out of school. Only about 18 percent of schools in the U.S. will be closed this week. Disney will have to compete for consumer attention with holiday shopping and travel plans.


Research firms used to make estimates by Disney and other studios project "The Force Awakens" will generate sales of $175 million to $201 million for the weekend. The highest December opening belongs to the "The Hobbit: An Unexpected Journey," which earned $84.6 million in 2012.
Theaters have been adding screenings, some of them 'round the clock. That leaves millions of tickets still available.
"The Force Awakens" could benefit from repeat moviegoers over the holidays and from a dearth of other big-budget pictures in theaters.
"We just keep adding and adding" show times, said Amber Stepper, vice president of marketing at Norwood, Massachusetts-based National Amusements Inc., which had about 950 screens worldwide as of August. "We think it's going to be huge and end the year on a really big note."
Before it's here, it's on the Bloomberg Terminal.
LEARN MORE