Why Le Pen Just Lost Her Best Chance to Win French Election
by
Regional ballots are more favorable for insurgent parties

Socialists, traditional right united to block National Front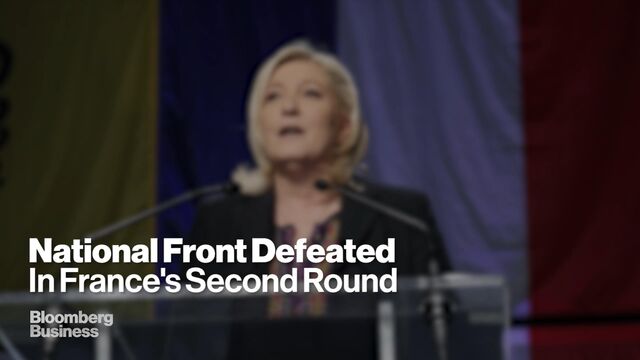 The failure of Marine Le Pen's National Front to win a single region in the runoffs puts an end -- at least for the moment -- to any talk of her becoming president of France.
Regional elections, with their low turnout and proportional system, favor insurgent parties like the National Front, as illustrated by its strong showing in the first round a week ago. Yet in Sunday's second round, voters from the left and the traditional right ganged up to deliver a series of defeats nationwide to the anti-European Union, anti-immigrant party.
The National Front had promised a historic breakthrough after coming out of the initial round ahead in six of France's 13 regions, with strong chances of winning three of them: Provence-Alpes-Cote d'Azur in the south, Nord-Pas-de-Calais in the north, and Alsace-Lorraine in the east. The Socialist party responded by withdrawing its candidates in those regions and calling on its supporters to vote for The Republicans, who went on to win all three. That's a foretaste of what may happen in the 2017 presidential vote.
"Marine Le Pen into the second round in 2017 is a bet worth making," Jean-Yves Camus, a researcher at Iris, a French political research institute, said in an interview last week. "Marine Le Pen winning the second round is very improbable." The National Front is "the party that is the most rejected by the French."
Most Disliked
Marine Le Pen has made attempts to broaden the National Front's appeal by dropping the anti-Semitic and racist rhetoric of her father Jean-Marie, whom she expelled from the party he founded. The strategy, combined with a relentless focus on France's stagnant economy and record joblessness, helped the party take a record 6.82 million votes Sunday, 27 percent of the total. It compares with the 6.42 million ballots and 17.9 percent of the vote that Le Pen obtained in the first-round of the 2012 presidential election.
Yet most French remain opposed to her calls to ditch the euro and re-establish national borders, as well as her comments about the dangers of immigration.
"When faced with the National Front, 60 to 70 percent of the French are ready to deny it victory," Jean-Christophe Cambadelis, head of the Socialist Party, said on Europe 1 radio on Monday.
Policy Breakdown
While polls have put Le Pen's support at more than 20 percent in the first round of a presidential election if it were held today, she is the country's most disliked politician. According to an Elabe survey of 1,003 voters released on Dec. 3, 63 percent have a negative opinion of her, with 48 percent saying they "strongly" dislike her. Hollande was strongly disliked by 33 percent and Sarkozy by 40 percent.
What's more, 67 percent of the French have a negative opinion of the National Front, an Odoxa poll released Dec. 11 found. Broken down, 76 percent of respondents said it was "discriminatory," 66 percent said it would bring "disorder" and 63 percent agreed it "has an economic program that would be dangerous for the country."
Turnout Factor
The higher turnout in a presidential election than in regional ballots would also work against Le Pen. Her party did well in the first round of the regionals when about 50 percent voted; it did less well in the second round when 59 percent of the electorate went to the polls, at least some of whom voted tactically. Turnout was about 80 percent in the last presidential election in 2012.
"With a 50 percent participation rate, Le Pen took 6 million votes, so we can roughly estimate that she could take up to 9 million votes in a presidential election, or 23 percent," said Yves-Marie Cann, director of political studies at pollsters Elabe. That's a long way short of translating into a presidential victory, according to Cann.
In regional elections, any list of candidates garnering more than 10 percent in the first round makes it to the second round. In parliamentary elections, only the top two in each constituency go to the second round, the same system used in presidential votes.
'Different System'
"We mustn't confuse regional elections fought on a different system with National Assembly elections where the FN has no chance at all of coming to power in the foreseeable future," said Jim Shields, head of French studies at Aston University in Birmingham, England. "This is where the FN is punished for being a solitary force within a system that demands the ability to strike alliances with other parties."
The National Front won just two seats out of 577 in the 2012 parliamentary elections even though Marine Le Pen had taken almost 18 percent in the first round of the presidential elections just a few weeks earlier, when she placed third behind Hollande and Sarkozy.
Le Pen had been counting on winning control of some regions this time around to show that her party was fit to govern in the run-up to the next presidential election. That's an opportunity she won't now get.
"The National Front remains an isolated party that scares people," Brice Teinturier, director at polling company Ipsos, said on France2 television Sunday.
Before it's here, it's on the Bloomberg Terminal.
LEARN MORE