Taiwan Presidential Candidate Seeks to Win Over Youth Vote
by
Chu pledges reforms of ruling party as opposition leads polls

Mission: Impossible? I'm 'Forrest Gump,' says Chu, 'Just run'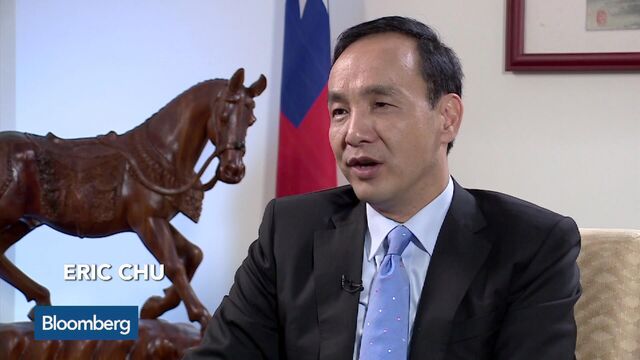 Taiwanese ruling party chairman Eric Chu won't know for more than a month the results of his long-shot bid to win the island's presidency, but he's already discussing how his party can win back the youth vote after the election.
"We should do some reform," Chu said on Friday in an interview at the Kuomintang's party headquarters. "We should change our policy and try to get closer to the younger generation, to the people. And do a lot of change to make our policy more attractive."
Chu, 54, trails opposition leader Tsai Ing-wen in the Jan. 16 race, with the opposition Democratic Progressive Party on course to win both the presidency and a legislative majority for the first time. The KMT is struggling to overcome scandals, economic stagnation and wariness about incumbent Ma Ying-jeou's push to expand trade ties with mainland China, a policy many young Taiwanese feel has favored the business elite. 
Students opposed to a services trade pact brokered by Ma's government with the Communist Party occupied Taiwan's legislative chamber for weeks last year in what became known as the Sunflower Movement. Ma was later forced to hand the KMT leadership to Chu, the mayor of New Taipei, Taiwan's most populous city, after suffering a record defeat in local elections held nationwide.
Singapore Meeting
Chu said he supported the direction of Ma's rapprochement with the mainland, which led to the president's historic meeting with Chinese counterpart Xi Jinping in Singapore last month. If elected, Chu said he would repeat Ma's summit with Xi and might even meet on the Chinese leader's turf.
But Chu said changes were necessary to ease tensions, "especially complaints about those economic benefits not shared equally" with the younger generation. Some 52 percent of voters age 20 to 29 support Tsai's DPP, compared with 19 percent for the KMT, according to a TVBS poll released last month.
"We have to take this response from the younger generation," Chu said, adding "the DPP always successfully put the attack on the KMT, saying it's too close to the mainland."
Civil War
The two sides have been governed separately since 1949, when then-Kuomintang leader Chiang Kai-shek fled across the Taiwan Strait during a civil war. Since the early 1990s they've slowly built economic ties under the so-called One China principle, with each side allowing the other to have a different idea about what that means. They've never signed a peace treaty and the mainland considers the island a breakaway province.
While the DPP's charter officially supports independence, Tsai says she supports keeping the status quo with China. Ahead of a campaign rally outside Taipei on Saturday, Tsai told reporters she would "maintain a peaceful relationship with China" and provide a more efficient government for Taiwan.
Skepticism about ties with China has grown amid economic slowdowns on both sides, with the island lowering its growth projection to just over 1 percent this year, compared with about 7 percent on the mainland. Taiwan, which depends on China for 40 percent of its exports, has seen shipments tumble.
Stifled Youth
"Chairman Chu doesn't understand why the young people are dissatisfied with the Kuomintang," DPP spokesman Wang Min-sheng said Monday. "He still emphasizes cross-strait relations when it comes to our economic future. But if we don't upgrade our industries and connect with the rest of the world, the future of our young generation will continue to be stifled."
Chu, who holds a Ph.D in accounting from New York University, said he opposed a proposal by Ma's government to lift a ban on mainland investments in Taiwan's strategic integrated-circuit-design industry. When asked about his overall policy toward China, he said he would keep "the status quo and let the next generation decide the direction."
The remark was interesting because Chu is supposed to be the KMT's future standard-bearer. It also contrasts with Xi, who said in 2013 that a final resolution of the Taiwan issue "cannot be passed on from generation to generation."
Status Quo
At the same time, Chu criticized Tsai's refusal to support the "One China" concept. "Madam Tsai says the status quo is what she insists, but never tells anybody how to maintain the status quo," he said.
Chu declined to seek the presidency earlier this year only to oust the party's nominee in October and launch his own 11th-hour run. He said Friday that preventing the DPP from winning the legislature -- or a legislative super-majority that could push through constitutional changes -- was a main reason he entered the race.
Red Line
While he promised the KMT would be "the loyal opposition" if forced into a minority, he said any constitutional change to explicitly state Taiwan's independence from China would represent a red line. China, which still has about 1,200 missiles pointed at Taiwan, passed a law authorizing an attack the last time a DPP government made moves toward independence.
Chu acknowledged he faced long odds and joked that people weren't convinced by his efforts to compare himself to Tom Cruise in a "Mission: Impossible" film.
"I say OK maybe not 'Mission: Impossible' because DPP says you are not so handsome as Tom Cruise," Chu said. "I say how about change to Tom Hanks, Forrest Gump. Just run,' no matter what the results. Just run."
Before it's here, it's on the Bloomberg Terminal.
LEARN MORE