Taiwan President's Chosen Successor Opposes China Chip Opening
by
KMT chairman Chu against mainland funds for chip designers

Government had proposed lifting ban in $19 billion industry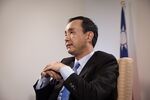 Taiwanese presidential hopeful Eric Chu said he opposed mainland Chinese investment in the island's microchip designers, breaking with his ally, outgoing President Ma Ying-jeou, as he attempts to close a wide gap in the polls.
Chu, the chairman of Taiwan's ruling party, the Kuomintang, described the $19 billion industry as too important to open to greater influence from the island's former civil war rival. He was answering questions from Bloomberg about a proposal by Ma's government to lift a ban on mainland Chinese investment in integrated-circuit-design companies such as the Hsinchu-based MediaTek Inc. as the global smartphone boom slows.
"We can cooperate together, but that one's still very sensitive to our economy," Chu said in an interview Friday at the KMT headquarters in Taipei. If elected president, Chu said he "would not allow that one, because it's not yet the time."
Chu's remarks came just more than a month before the island of 23.5 million elects a successor to Ma, whose policy of cross-strait rapprochement culminated in an historic meeting with Chinese President Xi Jinping in Singapore last month. The New Taipei City mayor only entered the race in October and trails far behind opposition leader Tsai Ing-wen in public opinion surveys.
Mainland Dependence  
Tsai's ascendancy four years after failing to unseat Ma has been fueled in part by skepticism about the KMT's economic policies and the island's increased dependence on trade with the mainland. While Tsai says she supports maintaining the status quo with Communist Party leaders in Beijing, her Democratic Progressive Party officially supports independence from the mainland.
On the proposal to lift the chip-design investment ban, Tsai has said only that it was an issue worth careful action and close attention, according to the local Web portal NewTalk. China is trying to reduce its reliance on imported chips and move up the manufacturing value chain to help complete the country's transition to a developed economy.
Opposition to greater mainland influence in key industries has helped scuttle investments in Taiwan's banking, technology and telecommunications sectors. On Friday, Taiwan's Investment Commission said it would probably not approve plans by China's Tsinghua Unigroup Ltd. to invest about $2.7 billion in three Taiwanese chip assemblers and testers, a segment in which cross-strait investment is already allowed.
Slowing Growth
While the island's economy is expected to expand just more than 1 percent this year, Taiwan remains home to the world's biggest contract chipmaker, Taiwan Semiconductor Manufacturing Co. Chip designer MediaTek competes with Qualcomm Inc. to supply the chips that power smartphones such as Xiaomi Corp. Stiffer competition and a global slowdown in mobile-device sales is putting pressure across the industry.
Allowing investments from mainland companies such as Unigroup, which owns MediaTek competitor Spreadtrum Communications Inc., could ease that pressure, Sanford Bernstein analyst Mark Li wrote in a report last month.
Taiwanese Economic Affairs Minister John Deng provided lawmakers Thursday with five conditions for any mainland investment in Taiwanese chip designers, including a prohibition on controlling stakes and restrictions on board membership.
Chu said such a proposal for cooperation with the mainland would require give-and-take and that now wasn't yet right for greater investment in integrated circuit design.
More broadly, Chu said Taiwan needed to upgrade its economy into new industries and expand trade to areas beyond the mainland. He cited regional trade agreements with the U.S. and the Association of Southeast Asia Nations as the "way out" of stagnation.
"If I am elected, in the coming four years, Taiwan will try to diversify our markets to Asean, India and the rest of the world," Chu said.
Before it's here, it's on the Bloomberg Terminal.
LEARN MORE