Surging Economy Seen Allowing Swedish Central Bank to Stay Put
by
Only five of 17 analysts expect negative rates to go deeper

Riksbank already at record stimulus amid zero inflation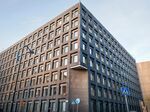 Sweden's central bank will probably refrain from adding to its record stimulus in a bet that a surge in growth will allow the economy to escape from three years of zero inflation.
The bank will keep its main lending rate at minus 0.35 percent, according to 12 of 17 analysts surveyed by Bloomberg. The rest anticipate another cut to minus 0.45 percent or minus 0.5 percent as inflation remains elusive. The bank unveils its decision at 9:30 a.m. in Stockholm on Tuesday.
None of Sweden's three largest banks by market capitalization, Nordea Bank, Swedbank and Svenska Handelsbanken, predict more easing or that policy makers will delay their forecast for a first rate increase in the spring of 2017. Instead, the three now expect rate increases to start as soon as late next year.
"We're seeing incredibly strong growth," said Ake Gustafsson, an analyst at Swedbank. "There are a lot of factors that will boost inflation slightly further down the line."
The economy is growing at its fastest pace in four years, propelled by consumer spending and housing investments. Policy makers led by Governor Stefan Ingves have cut rates deep into negative territory and unveiled a government bond buying program that targets a third of the market. They have also said they are ready to intervene in the currency market, if necessary, to press down the exchange rate to revive inflation.

Aided by stimulus, Sweden's economy grew at an annual rate of 3.9 percent last quarter, while unemployment has dropped to almost a seven-year low. Retail sales and service production are beating analyst expectations amid signs of a pick-up in industrial production. Inflation expectations are also turning the corner, rising to a one-year high.
Pressure eased on the bank earlier this month after the European Central Bank delivered less stimulus than many analysts had expected, driving the krona down by about 1 percent against the euro. Meanwhile, the U.S. Federal Reserve is also expected to raise rates for the first time in more than nine years this week.
Even so, those anticipating a rate cut were given some backing last week after a report showed price growth was again lower than the Riksbank expected. Underlying prices fell a monthly 0.1 percent in November and rose an annual 1 percent.
That means the Riksbank will be forced to cut to minus 0.45 percent, said Robert Bergqvist, chief economist at SEB in Stockholm.
"A clear majority of the board members expressed doubt that the inflation rise has been secured" at its last meeting in October, he said. "Sure, the Swedish economy is performing well, but the Riksbank has said that we strive to really boost inflation" and "there are still downside risks both in the short- and long-term when it comes to inflation," Bergqvist said.
Before it's here, it's on the Bloomberg Terminal.
LEARN MORE