business
Rouhani Allies Embrace Censored Reformers Ahead of Iranian Polls
By and
Infighting between moderates, conservatives vying for power

President seeks parliamentary majority to pursue his agenda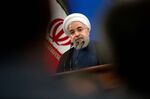 Allies of Iranian President Hassan Rouhani are challenging restrictions on top reformist politicians as wrangling with conservative rivals heats up ahead of elections next year.
The state-run Ettelaat newspaper ran a front-page editorial last week criticizing as unlawful a ban on publishing the name and picture of former President Mohammad Khatami. A day earlier, Rouhani's brother Hossein Fereydoun had visited opposition leader Mehdi Karrubi, who's under house arrest and accused of sedition by hardliners.
Buoyed by Rouhani's success in striking July's nuclear deal with world powers in the face of domestic resistance, a reformist camp largely silenced since 2009 is showing signs of renewed ambition. Elections for parliament and the assembly that will choose Supreme Leader Ali Khamenei's successor could embolden Rouhani, who's seeking to control a majority in the legislature.
Infighting "is reaching the highest and most sensitive" level since Rouhani won a four-year term in 2013, said Alex Vatanka, a senior fellow at the Washington DC-based Middle East Institute. "How Rouhani chooses to respond to the hardline pushback against his agenda, and the degree to which he is successful, will be a major indicator of political life in Iran for the remainder of his presidency."
Most Popular
While full implementation of the nuclear accord will end Iran's global isolation, once sanctions are removed Rouhani needs to lure overseas investment and engineer an economic turnaround to raise living standards for hard-pressed Iranians. Winning control of parliament would help, and could also provide a platform to at least begin a debate over some of the stringent controls on everyday life.
The last president to attempt that was Khatami, who was in office from 1997 to 2005 and remains the most popular reformist in Iran.
Ettelaat had on Dec. 5 reprinted an interview Khatami gave Lebanon's As-Safir newspaper in which he said only dialogue and "respect for the principles of democracy" would enable Iran to settle its internal disputes.
Hardliners, who forced Khatami to the margins of politics under his conservative successor, Mahmoud Ahmadinejad, hit back.
Judicial spokesman Gholamhossein Mohseni-Ejei said the paper's editor Mahmoud Doaei, who's also a cleric with ties to Khatami, has been summoned to the special court for clerics. The order barring media coverage of Khatami "is still in place, in force and whoever acts against it will be be pursued," he said.
'Taste, not Laws'
In his editorial, written as an open letter to Rouhani, Doaei said he had previously challenged the judiciary over its ban on Khatami, including during a meeting between officials and media executives in February.
"This demand is based on taste, not laws, and Ettelaat will not accept it," he wrote.
The newspaper "had written about Khatami before but with elections nearing, the hardliners took an exception this time," said Aliasghar Ramezanpour, who was a deputy culture minister during Khatami's presidency. "The coming elections are not without impact."
Karrubi, the opposition leader, was recovering from surgery when the president's brother came calling. He's been under house arrest, as has fellow opposition leader Mir Hossein Mousavi, since 2011 accused of seeking to undermine the clerical regime by fueling street protests against the disputed re-election of Ahmadinejad 18 months earlier.
While some conservatives have demanded the two be put on trial, Rouhani's government says it's making efforts to release them.
Khatami had supported Mousavi and Karrubi when they challenged Ahmadinejad in 2009, and he endorsed Rouhani, whose campaign included pledges for greater civil liberties, in the 2013 election.
Last week's events mark an attempt "to gingerly challenge some of the more draconian edicts," said Abbas Milani, director of Iranian studies at Stanford University in California. "There is an orchestrated polyphony" of voices, he said.
Before it's here, it's on the Bloomberg Terminal.
LEARN MORE