Liquidity Cracks Grow in $400 Billion Danish Covered Bond Market
by and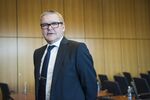 The governor of the central bank of Denmark has added his voice to the chorus of critics concerned about the latest developments in Europe's biggest mortgage-backed covered-bond market.
He, like others, is warning that lenders have split the $400 billion market into too many smaller security series. Even though the overall market is still big, the development has effectively eroded liquidity.

It would "definitely" help if mortgage banks did something to reverse that trend, Governor Lars Rohde said in an interview in Copenhagen. "It's not a decision for the central bank, it's a decision for the mortgage banks to maybe concentrate their issues on very large and liquid series."
Denmark's covered-bond market has been characterized by greater volatility this year, and that's making it more vulnerable to liquidity freezes, according to a report by the central bank. In a worst-case scenario, banks would be unable to sell enough bonds to fund their operations, destabilizing the financial system, the central bank said.
"Liquidity in the bonds depends to a high degree on the papers' properties," the bank said.
Issuers in Denmark's AAA-rated mortgage-bond market have added considerably to an offering that was once dominated by fixed-rate, 30-year bonds. In the 1990s and early 2000s, the goal was to attract more borrowers with flexible-rate and interest-only securities. More recently, lenders have designed products that help them comply with stricter financial regulation.
Some analysts are even questioning whether Denmark's much-touted balance principle might need to be reviewed. The model means that each individual mortgage bond is linked to a specific loan, so that the borrower's interest costs are passed directly through to the investor. The model results in a maturity match between funding and borrowing.
"A strict balance principle means that banks need an ISIN code for each product," Anders Aalund, chief analyst at Nordea Markets in Copenhagen, said by phone. The question is "whether the pass-through set-up is the way to go," or "might it be smarter to have, in the short end, a soft version of the balance principle?" Existing legislation already gives banks the leeway to introduce "some mismatch" in funding and borrowing, Aalund said.
Jens Peter Soerensen, chief analyst at Danske Bank, says the industry is already "addressing the issue of making it more liquid." But "it takes some time." Ironically, liquidity is suffering as a result of efforts to spread refinancing risks across more auctions, which is forcing lenders to generate more ISIN codes. "It started with the best intentions," he said.
To be sure, the chief financial officer at Denmark's biggest mortgage bank, Nykredit, says there's no reason to be alarmed.
"Mortgage banks could reduce their product variety, but by far the most volume is highly liquid and that also goes for others than just Nykredit," CFO Soeren Holm said by phone. "I think it's just a little bit exaggerated."
Denmark's mortgage-bond market is more than three times the size of its government debt market and banks have tended to rely more on the securities to fill liquidity buffers than on the limited supply of sovereign debt available in kroner.
The question of liquidity in Denmark's mortgage bond market is a particularly sensitive one after the country fought Basel tooth and nail to prevent the global regulator from downgrading its home-finance securities. In the end, Denmark prevailed and banks are now allowed to use the most liquid mortgage bonds to fill 70 percent of their liquidity buffers, compared with the 40 percent cap Basel had intended.
But questions about the health of Denmark's mortgage-bond market have persisted. Ratings companies and the central bank have both criticized risks associated with refinancing auctions. Some of the steps taken by the industry to address those risks are now behind the reduction in liquidity, according to Soerensen at Danske.
The broader issue of financial stability in Denmark is one that concerns Rohde. The central bank has kept its benchmark deposit rate at minus 0.75 percent since February to defend the krone's peg to the euro. Most analysts estimate it will take years before Denmark's policy rate is again positive. Coincidentally, Danes' gross debt is three times their disposable incomes, which is a rich-world record, according to the OECD.
Rohde says politicians aren't doing their fair share to cool the housing market. In particular, he criticizes what he says are pro-cyclical property tax laws. Denmark's most recent property bubble burst in 2008, with real estate prices sinking 20 percent from peak to trough in the ensuing crisis.
"In our opinion it's quite urgent" that parliament ensure the tax code doesn't exacerbate the risks to the housing market, Rohde said. "Going back in history we've seen that the situation on the housing market in Denmark obviously has had negative consequences for financial stability and also for the overall macroeconomic stability."
Before it's here, it's on the Bloomberg Terminal.
LEARN MORE