Le Pen's National Front Shut Out of French Regional Governments
by and
Sarkozy's Republicans take seven regions in runoff elections

Hollande's Socialists stem losses to break `spiral of defeat'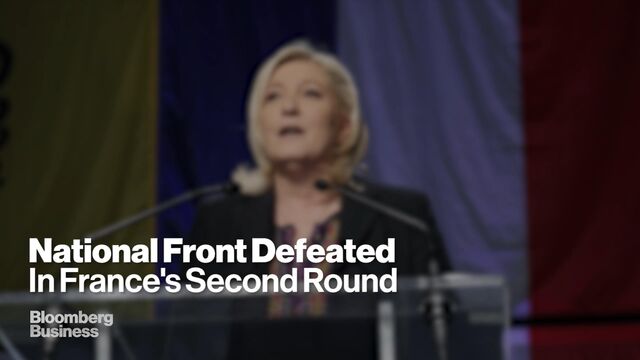 France's National Front failed to win any regional assemblies in runoff elections Sunday, dealing a blow to leader Marine Le Pen's efforts to build on a historic first-round result and prepare the far-right party for government.
President Francois Hollande's Socialists performed better than pollsters had predicted to hold five regions, with Nicolas Sarkozy's Republicans picking up six, according to Interior Ministry projections based on partially counted results. Exit polls showed The Republicans also winning the Paris region and the Socialist candidate there conceded, bringing the balance of the 12 mainland regions to 7-5 in favor of the main opposition party.
Le Pen was bested by Xavier Bertrand of the Republicans in the Nord-Pas-de-Calais-Picardie region she contested, while her niece, Marion Marechal Le Pen, came in behind former Sarkozy minister Christian Estrosi in the southern region of Provence-Alpes-Cote d'Azur, the Interior Ministry results showed. Those two regions were the National Front's main targets and first-round results had suggested they were within grasp.
"The National Front is still struggling in the second round, and it's struggling to become a mainstream party, a winning party," Pascal Perrineau, a politics analyst at the CEVIPOF political institute in Paris, told France Info. "The major losses show how much work the Front still has" ahead, he said, citing a need "to carve out its mainstream political party image."
Participation jumped in the second round to about 59 percent compared with 48 percent on Dec. 6, suggesting that voters had turned out in force and cast their ballots tactically to keep the anti-immigrant, anti-euro party out of office. Bertrand, who beat Marine Le Pen, urged France's "governing class" to seize this as their last opportunity to implement reforms or risk seeing the National Front win office in the future.
"We need to immediately put in place the real reforms that this country needs," Bertrand, a former labor minister, said in a televised address. "This is our last chance."
The results amount to an unexpected electoral success for Hollande on the same day that a global climate accord was sealed in the French capital. Hollande's party had been predicted to hold two or three regions at most before voting.
"The left has broken the spiral of defeat," Frederic Dabi, a pollster at Ifop, said on I-tele. "They fought a hard fight and preserved the keys of this evening's result."
Before it's here, it's on the Bloomberg Terminal.
LEARN MORE