U.K. Denies Cameron Softening Welfare Demand in `Brexit' Debate
By
Newspapers report Cameron will ask other leaders for ideas

Cameron wants delay before EU migrants could claim benefits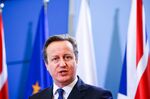 Prime Minister David Cameron's government dismissed newspaper reports that he is backtracking on demands for changes to the welfare system as he tries to renegotiate Britain's membership of the European Union.
Cameron won't use this week's meeting with fellow European leaders to drop his proposal that EU migrants entering the U.K. wait four years before they can claim benefits, a government spokesperson said.

Responding to reports that Cameron will instead ask counterparts to make proposals to rein in immigration, the spokesperson pointed to a November speech in which the prime minister said that he was "open to different ways of dealing with this issue."
The Sunday Telegraph and Sun on Sunday were among the newspapers to cite sources as saying Cameron would switch strategies after other governments said his suggestion of a limit on benefits amounted to discrimination. Cameron sees the curbs as a way of putting off foreigners from moving to the U.K.
The prime minister has committed to hold a referendum on the U.K.'s membership of the EU by the end of 2017 after seeking to renegotiate how the bloc operates. He is next set to meet EU counterparts on Thursday.
EU President Donald Tusk said last Monday that there was "no consensus" among member states on the issue of welfare curbs. Polish Prime Minister Beata Szydlo also said the two countries remained apart on the topic after meeting Cameron last week.
Seventy-four percent of those polled by ComRes for the Independent on Sunday said they agreed with Cameron's proposal, yet only 31 percent said he would be able to achieve it.
Separately, Ian Taylor, chief executive officer of oil trader Vitol Group, told the Sunday Telegraph that a "Brexit" could leave the U.K. isolated on the international stage. Taylor is a donor to the ruling Conservative party, the newspaper said.
"Britain's interests are better served by being in the EU because it's a free market with tremendous benefits," Taylor said. "I think coming out of the EU would be bad for the U.K."