U.S. Stocks Fluctuate With Crude, Treasuries Weaken Before Fed
By and
S&P 500 climbs back above 2,000 as energy stocks reverse

Gas slides to 14-year low on forecast for warmer weather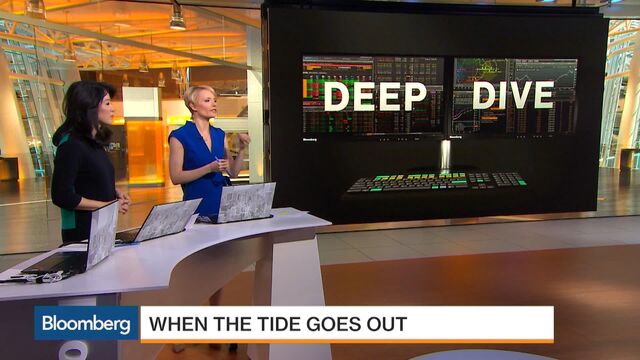 U.S. stocks rallied amid crude oil's rebound from a six-year low, while Treasuries retreated as concern eased that a rout in commodities and high-risk debt will prevent the Federal Reserve from raising interest rates as anticipated.
The Standard & Poor's 500 Index reversed a drop to its cheapest level in two months with U.S. crude edging back above $36 a barrel as traders bought back some of their record bearish bets against the commodity. Yields on 10-year Treasuries climbed from a six-week low and emerging-market stocks sank as the odds of a Fed rate hike Wednesday held above 75 percent. An exchange-traded fund that tracks junk-rated corporate debt fell to a six-year low amid a rout that has forced at least three credit funds to wind down.

"We're on hold until Wednesday," said John Carey, a fund manager at Pioneer Investment Management Inc. in Boston, which oversees $244.1 billion globally. "Right now the focus is macroeconomic, the Federal Reserve and commodities prices."
A sense of unease prevailed across global financial markets two days before the Fed is expected to end seven years of holding rates near zero. Gyrations in the commodities market amplified concern that struggling resource producers won't be able to stay solvent, while weakness in high-yield credit markets sparked fear of contagion. The prospect of tighter U.S. monetary policy and more expensive cash has helped erase $2.5 trillion from the value of global equities since Dec. 1, and stock swings have swelled.
Stocks
The S&P 500 jumped 0.5 percent to 2,021.94 as of 4 p.m. in New York, with trading volumes 24 percent above the 30-day average. The index earlier fell to its lowest level since Oct. 6 before erasing those losses as equities tracked the price of crude.
Bond market anxiety has caught the notice of equity investors after Third Avenue Management froze redemptions at a high-yield mutual fund last week. The SPDR Barclays High Yield Bond ETF, a proxy for the junk debt market, slipped 0.8 percent after falling 2 percent on Friday, its biggest one-day drop in four years.
"There are a lot of fireworks here coming down to the wire with the Fed," said Jim Paulsen, the Minneapolis-based chief investment strategist at Wells Capital Management Inc. "Another announcement of financial stress around the commodity collapse would certainly accelerate this move to the downside. Fortunately, the dollar is somewhat stable. If oil does show some stability, you've got people who would buy on a bounce."
Nerves were further frayed just after 10 a.m. in New York when benchmark indexes such as the S&P 500 and Dow Jones Industrial Average briefly surged and then retreated. In two minutes starting at 10:14 a.m., the SPDR S&P 500 ETF Trust exchange-traded fund jumped about 1 percent on volume of about 10 times the day's earlier pace. Then it erased the move.
"It's clear somebody had a mistake, whether it's a computer or a human," said Michael Antonelli, an institutional equity sales trader and managing director at Robert W. Baird & Co. in Milwaukee. "In these kind of illiquid market days when everybody's just kind of nervous, it can disjoint the market for an instant. It's something we deal with a lot these days."
The Stoxx Europe 600 Index fell 1.8 percent for a fifth day of losses that left it at the lowest level since Oct. 2. The gauge has fallen more than 9 percent this month amid a rout in commodities and disappointment over the extent of European Central Bank stimulus.
In Asia, Japan and Australia led declines, with the MSCI Asia Pacific Index down 1.2 percent to its lowest point since the start of October.
Commodities
West Texas Intermediate crude rallied 1.9 percent to $36.31 a barrel after briefly falling below $35 for the first time since 2009. The futures slid as Iran pledged to boost oil exports, fueling speculation that OPEC members will exacerbate global oversupply issues.
The Bloomberg Commodity Index fell 0.6 percent to its lowest level since 1999, as U.S. natural gas slid 4.8 percent to its lowest settlement since 2001.
Gold futures for February delivery slipped 1.1 percent to $1,063.40 an ounce in New York. Prices are down about 10 percent this year, set for a third annual loss, the worst streak since 1998. Silver slipped to a six-year low.
Bonds
Top bond investors are predicting more carnage after Third Avenue Management and Stone Lion Capital Partners suspended redemptions, while high-yield credit fund Lucidus Capital Partners said it plans to return the $900 million it has under management to investors next month.
Prices on U.S. high-yield bonds kept sinking Monday with the risk premium on the Markit CDX North American High Yield Index, a credit-default swaps benchmark tied to the debt of 100 speculative-grade companies, rising to the highest level since November 2012. BlackRock's iShares iBoxx High Yield Corporate Bond ETF, the largest fund of its kind, fell to a 6 1/2-year low.

Ten-year Treasury yields climbed nine basis points, or 0.09 percentage point, to 2.22 percent. The move marked a turnaround after after last week's selloff in oil, stocks and high-yield bonds led investors to seek the safety of U.S. government debt and pushed benchmark yields down by the most since September.
Emerging Markets
The MSCI Emerging Markets Index fell for a ninth day, capping its longest run of losses since June and steering the gauge to its lowest close in six years. The developing-nations measure has slumped 19 percent this year, compared with a 4.5 percent drop in shares of developed countries as the Fed moves closer to raising rates.
Russia's ruble touched its weakest level on record as Brent crude slumped to as low as $36.33 a barrel in London. The Brazilian real declined for a third day as analysts in a central bank survey predicted a worse recession for the country than has been previously estimated.
South African assets rallied, with the rand surging the most in seven years after President Jacob Zuma backtracked on his appointment of a relatively unknown lawmaker as finance minister.
Currencies
The dollar meandered, failing to concertedly extend last week's gains amid concern the currency's advance this year leave it vulnerable to a short-term selloff ahead of the Fed's last meeting of 2015. The Bloomberg Dollar Spot Index was little changed Monday after climbing 0.2 percent last week.
The yuan weakened after China introduced a new index valuing it against a range of exchange rates, fueling speculation they're preparing to depreciate it further. The currency lost 0.3 percent in Hong Kong as the People's Bank of China cut the reference rate used to manage the yuan by 0.21 percent to a four-year low of 6.4495.
The pound retreated, losing 0.5 percent, as a Bank of England official said she will "proceed with caution" when mulling a potential vote in favor of higher rates.