business
Twilight of the Skeptic: Climate Critics Fume as Talks Near Deal
By and
Critics decry global warming alarmists and energy poverty

Coal CEO: pact means Americans will 'freeze in the dark'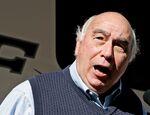 Coal mining CEO Robert Murray looks at the Paris climate talks and sees nothing but a farce.
A two-week parade of world leaders, scientists and corporate executives attesting to the dangers of global warming has failed to persuade the head of one of America's biggest coal companies, who dismisses the idea as a hoax. Now, with envoys in Paris inching toward a final agreement, Murray sees nothing but disaster for the world's poor and for his already beleaguered industry.

"To me, it is a tragedy," said Murray, chief executive officer of Murray Energy Corp., the biggest closely-held U.S. coal producer, during an interview from his offices in Ohio's mining region. "They are condemning the poorest people on Earth to energy poverty for no environmental benefit whatsoever."
In France, there's cautious optimism for an agreement that will curtail fossil-fuel pollution blamed for imperiling the world's climate. Among the dwindling ranks of global-warming skeptics -- including businesses that carry the biggest burden in cutting emissions -- the feelings run closer to anxiety and dismay. Instead of saving the world, Paris is marching it off a cliff, they say.
"These global warming alarmists have done more destruction to America and will continue to do more so than the terrorists have done to date," Murray said.
Counter Arguments
The Paris talks have given climate change skeptics a fresh platform to promote their counter arguments. The U.S.-based Heartland Institute held its own conference there this week dedicated to "bringing climate realism to Paris." The meeting drew a few dozen attendees, according to media reports.
In Washington, U.S. Senator Ted Cruz, a Republican candidate for president, convened a hearing on Capitol Hill this week to show why global warming is still an open question. "What does it do to scientific debate when anyone who dares question political ideology is branded a denier and a heretic?" he asked.
Studies have found the vast majority of scientists agree humans are altering the climate, with potentially disastrous consequences. In Paris this month, scores of corporations have joined the cause, with heavyweights from Bill Gates to Ted Turner extolling the need to take action, while promoting the business opportunities of renewable energy.
"If we send the right signals, if we make the right choices, the private sector will deliver," U.S. Secretary of State John Kerry told the conference in a speech Wednesday. Clean energy offers "one of the greatest economic opportunities the world has ever known."
Proposed Solution
Government diplomats at the talks are forging a deal that would channel at least $100 billion a year from rich nations to poorer ones to clean up emissions in exchange for more transparency on which toxins are being poured into the atmosphere. They're discussing long-term goals such as limiting the increase in temperature, measured since the industrial revolution, to 2 degrees Celsius (3.6 degrees Fahrenheit), a goal that would require a vast reduction in burning oil, coal and natural gas.
John Browne, who led U.K.-based oil explorer BP Plc from 1991 to 2007, said companies that "break their bond with society" stand to lose 30 percent of their value. He cited as an example Volkswagen AG's stock plunge following its admission that it cheated on tests for pollution controls on its cars in the U.S.
Dire Consequences
"The oil majors are not the only actors in this piece," Browne said in an interview with Bloomberg Television. "If they don't lean into the problem and go with society in this area, I think something will happen to them. It's better to be around the table discussing your future than to be away and let others decide in your absence."
The mixed response from the business community reflects the nature of a deal that will let each nation choose its own emissions-cutting strategy. So while some countries like the U.S. and Germany promise to scale back their coal industries, others, including India and Poland, will continue to rely on what's proven to be the most polluting fossil fuel.
"The simple fact is, from the way the climate pledge is structured, we don't have any predictability," Stephen Eule of the U.S. Chamber of Commerce said in a Paris interview. Businesses face "a mosaic world where every country has a different take and different goals," he said.
Beleaguered Coal
Murray's company, based in St. Clairsville, Ohio, has filed suit against President Barack Obama's new power plant rules to curb emissions, which are expected to hit coal-fired generators the hardest. The industry is already struggling with plummeting commodity prices and growing competition from natural gas. A Paris agreement will make life even tougher, Murray said.
"Mr. Obama is a fraud, and so I don't think there is going to be any commitment by the United States to anything he says," Murray said. "What we do have is all the discussion, and that certainly hurts the coal industry and it certainly hurts Murray Energy Corp."
Even so, the talks won't have much long-term impact on the industry, he said. He doubts most of the major economies such as China, Russia and Europe that have made emissions-cutting pledges, will follow through with real action. The developing world needs affordable energy, and coal fills that need best, he said.
The U.S. may have to learn the hard way, he warned.
Watch Next: Draft Final Agreement Delayed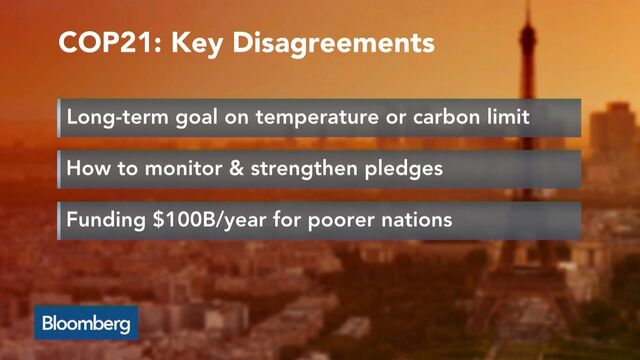 "Unfortunately, Americans don't react until there's a crisis," Murray said. "They are going to have to freeze in the dark until our citizens realize what's been done to them in the name of this global warming hoax."
— With assistance by Tim Loh, Matthew Campbell, and Jonathan Ferro
Before it's here, it's on the Bloomberg Terminal.
LEARN MORE